View the November Logistics Link for Industry news and MIQ updates.
MIQ UPDATES
CONGRESSIONAL VOTE ON TRANS-PACIFIC PARTNERSHIP MAY BE 2016

The U.S. and its 11 negotiating partners reached a preliminary agreement on the TPP, which would result in the world's largest free-trade area, with a combined GDP of $27 trillion, equaling almost 40 percent of the global economy. Read more about this partnership.

MIQ UK TEAM SHORT-LISTED FOR BIFA AWARD

MIQ Logistics UK has been short-listed for the BIFA Freight Service Awards 2015. Read more about the award here.

MIQ EMPLOYEE ANNOUNCEMENTS

Ryan Lentz Brings Operations Expertise To MIQ Logistics Sales TeamRyan Lentz has joined the Sales team as Business Development manager for the Chicago area. Lentz has responsibility for strategic account development and new business efforts. Read more here.

Amy Breeman-Rhodes Joins MIQ Logistics Compliance and Operations Team

Amy Breeman-Rhodes has joined its Compliance team as Import Manager and Customs Broker for the Washington, D.C. area. Breeman-Rhodes has responsibility for facilitating the entry, clearance and movement of import cargo for MIQ Logistics customers. Read more here.
INDUSTRY NEWS
"Despite September's decline, the U.S. LEI still suggests economic expansion will continue, although at a moderate pace," said Ataman Ozyildirim, Director of Business Cycles and Growth Research at The Conference Board. Learn more here.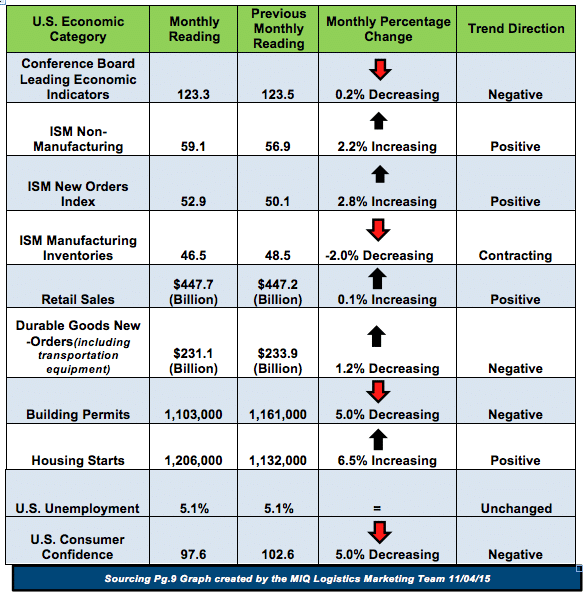 "The see-saw pattern in truck freight tonnage continued again in September, except that the gain didn't full wipe out August's decline" said ATA Chief Economist Bob Costello.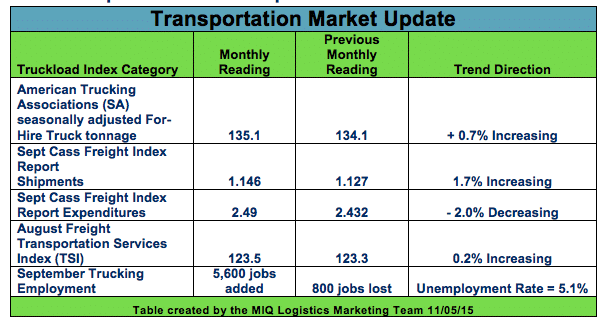 CASE STUDY
The Challenge:  Sulta was growing rapidly and their outsourced warehouse in the U.S. could not keep up with their needs. Sultra felt its warehouse provider was not pircing its services competitively.
The Strategy: MIQ Logistics provided a one-stop shop for all their supply chain needs. We quickly fixed their warehouse management process by improving inventory flow and visibility.
The Solution: MIQ
The Results: MIQ Logistics increased cash flow, reduced lead times by multiple days, reduced shipment delays, and increased customer satisfaction.
EVENTS