Ocean Freight rates on the Asia to US trade lane and specifically to the US West Coast are at record high levels after two months of continuous increases. Rates are anticipated to stay elevated throughout the duration of this peak season. A variety of market forces and unique economic circumstances have combined to push rates to unprecedented levels in 2020.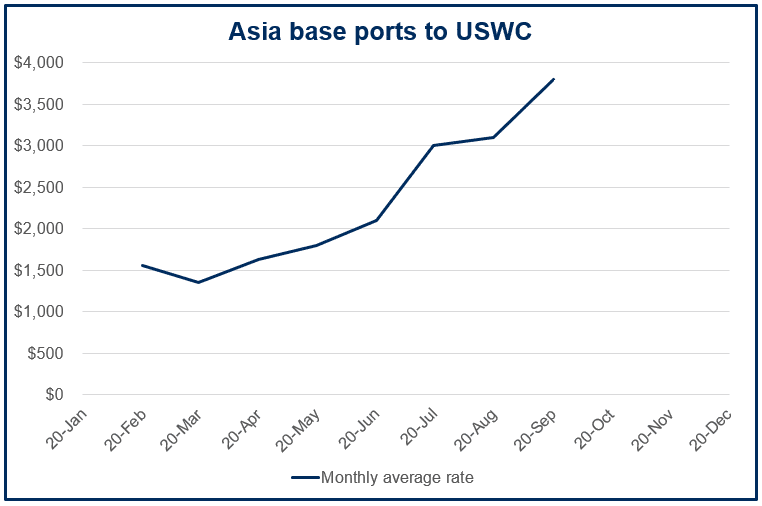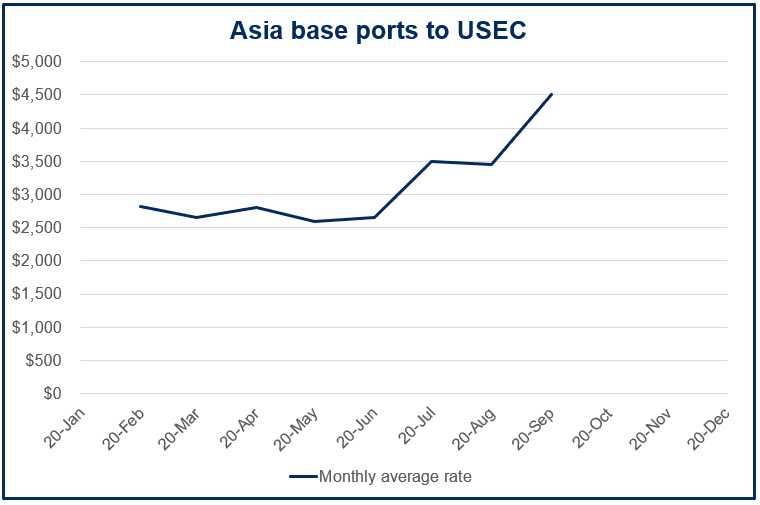 At the beginning of the summer, freight volumes were depressed due to coronavirus shutdown measures taken by countries around the world in Q1 and Q2 of 2020. Furthermore, forecasts at that time projected weak volumes in Q3, with some estimates suggesting import volumes would be 9.4% lower in 2020 than in 2019. As a result, carriers took actions to reduce capacity by implementing blank sailings. The total idle fleet increased to levels surpassing the 2009 financial crisis as carriers prepared for a quiet fall season.
Reality, however, has departed sharply from forecasted expectations as import volumes began surging in the middle of the third quarter. Starting in July, import volumes from Asia to North America began increasing to year over year growth, and that growth continued into August. Roll pools began building at Asian ports, and carriers responded by reinstating many blank sailings that were scheduled, and even beginning to add limited extra loader vessels to cope with demand.
Rates are expected to be maintained through October as volume forecasts remain high. Some carriers expect this to last until the end of the year and leading into the Lunar New Year holiday, which falls on February 12, 2021.  As we approach the October 1st Mid-Autumn festival holiday in China, early guidance shows that freight volumes are expected to remain strong around the holiday. There are some indications that factories will reopen in China 2 days earlier than they normally do at the close of the holiday week. Under these conditions, space remains extremely tight in all Asia to North America trade lanes, and advance notice of 2 weeks or greater is critical to securing timely bookings for freight.
As always, Noatum is committed to maintaining the highest level of service possible under these challenging market conditions. Please reach out to your Noatum representative if you have any questions and to provide any indication of freight forecasts which we can use to better support your business.