"After a brief pause, the U.S. LEI rose sharply in July and August, resuming its upward trend," said Ataman Ozyildirim, Economist at The Conference Board. "If the LEI's six-month growth rate, which has nearly doubled, continues in the coming months, economic growth should gradually strengthen through the end of the year. Despite weakness in residential construction, consumer expectations, and the stock market, improvements in the LEI's labor market and financial components, as well as new manufacturing orders, drove this month's gain."
– Ataman Ozyildirim Economist at The Conference Board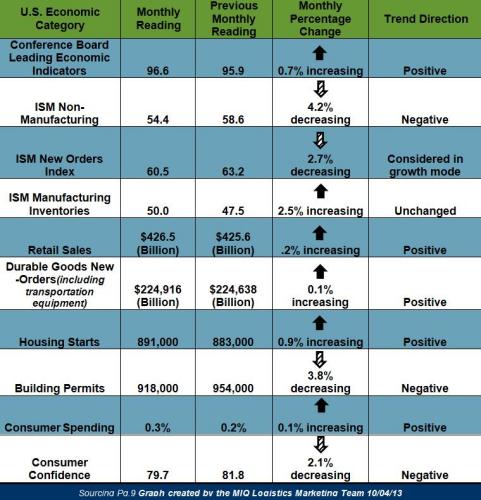 Institute for Supply Management (ISM) Manufacturing Report on Business
Economic activity in the manufacturing sector increased again in September
50 represents the dividing line between expansion and contraction for the index of the below chart; which covers the Purchasing Managers Index (PMI) and new orders.
The PMI reading increased to 56.2% in September, which is 0.5 percentage points higher than the reading in August, which had read 55.7%.
New Orders decreased in September by 2.7%; which lowered the reading to 60.5%.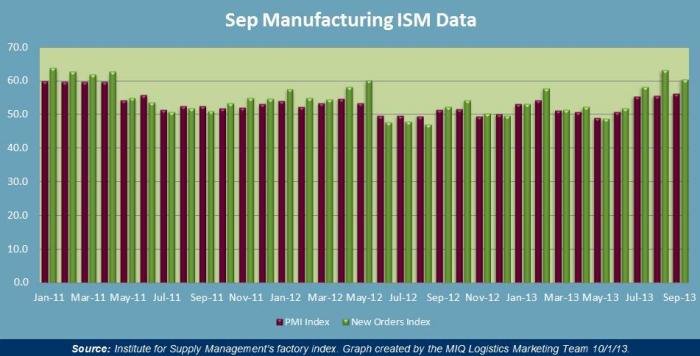 Expanding Manufacturing Industries
Electrical Equipment
Appliances & Components
Food, Beverage & Tobacco Products
Furniture & Related Products
Petroleum & Coal Products
Fabricated Metal Products
Paper Products
Printing & Related Support Activities
Transportation Equipment
Computer & Electronic Products
Machinery
Plastics & Rubber Products
Contracting Manufacturing Industries
Apparel
Leather & Allied Products
Primary Metals
Textile Mills
Nonmetallic Mineral Products
Miscellaneous Manufacturing
---
Transportation Market Update

"The strength in tonnage continued again in August, with the index increasing in three of the last four months," ATA Chief Economist Bob Costello said. "The improvement corresponds with a solid gain in manufacturing output during August reported by the Federal Reserve last week."
"However, tonnage's strength in recent months, and really through 2013, is probably overstating the robustness of the economy and trucking generally," Costello said. "It just so happens that the sectors of the economy that are growing the fastest – in housing starts, auto production, and energy output, primarily through hydraulic fracturing – produce heavier than average freight, leading to accelerated growth in tonnage relative to shipments or loads.
"Truckload industry loads have accelerated the last few months, but are flat for the year, while less-than-truckload shipments are up less than 1.5% in 2013," Costello added.
---
Global Market Update
Import volume at the major retail container ports in the U.S. is expected to grow 9.1% in October (year-over-year).
NRF (National Retail Federation) is predicting that this year's holiday sales will be growing 3.9% year over year; reaching a total of $602.1 billion.
"Our forecast is a realistic look at where we are right now in this economy – balancing continued uncertainty in Washington and an economy that has been teetering on incremental growth for years," said NRF President and CEO Matthew Shay. "Overall, retailers are optimistic for the 2013 holiday season, hoping political debates over government spending and the debt ceiling do not erase any economic progress we've already made."
Transpacific Eastbound GRI – Effective 11/15/13
| Container Type | 20′ | 40′ | 40′ HC | 45″ |
| --- | --- | --- | --- | --- |
| U.S. West Coast | $320.00 | $400.00 | $450.00 | $506.00 |
| U.S. East Coast | $320.00 | $400.00 | $450.00 | $506.00 |
| U.S. Inland | $320.00 | $400.00 | $450.00 | $506.00 |
4Q13 TPEB Bunker Levels Announced — Effective 10/1/13 – 12/31/13
| | | | | |
| --- | --- | --- | --- | --- |
| Container Type | 20′ | 40′ | 40'HC | 45′ |
| TPEB Lanes to West Coast | $424.00 | $530.00 | $596.00 | $671.00 |
| TPEB to East & Gulf Coast | $780.00 | $975.00 | $1097.00 | $1234.00 |
| TPEB to Inland Points | $706.00 | $883.00 | $993.00 | $1118.00 |
---
SOURCES
Domestic & Global Economy
Truckload Capacity & Volumes
Global Market Update
Government