Learn about updated Industry information and MIQ Logistics in the news.
Congratulations to our UK Team for being awarded the International Supply Chain Project Of the Year Award from Retail Week SupplyChain Awards. Read more here.
MIQ LOGISTICS NAMED TO ARMSTRONG & ASSOCIATES TOP 100 LIST
In its Right Price: Modern Freight Brokerage in the U.S. report, Armstrong & Associates ranks MIQ Logistics 35 on its Top 100 U.S. Domestic Transportation Management / Freight Broker list.
MIQ Logistics is attending and exhibiting at the Breakbulk Americas 2014 forum that is currently taking place through October 8, 2014 in Houston, TX. If you are at BreakBulk, stop by booth 401 to learn about our experience with project logistics.
INDUSTRY NEWS
"The U.S. LEI suggests economic growth will remain moderate into the New Year, with little reason to expect growth to pick up substantially," said Ataman Ozyildirim, Director of Business Cycles and Growth Research at The Conference Board.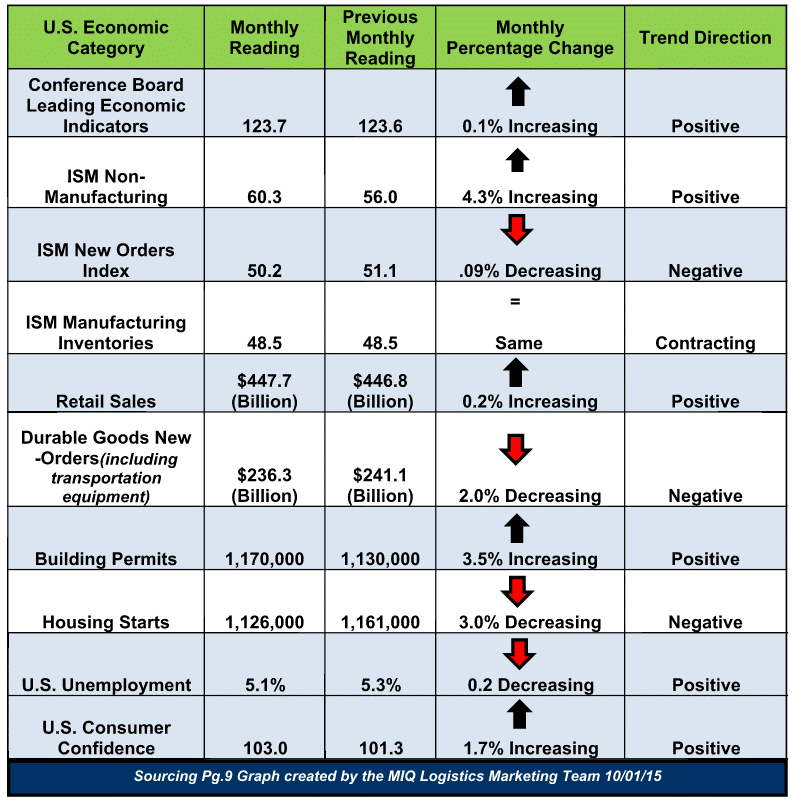 "After such a robust July, it is not too surprising that tonnage took a breather in August," said ATA Chief Economist Bob Costello. "The dip after a strong gain goes with the up and down pattern we've seen this year."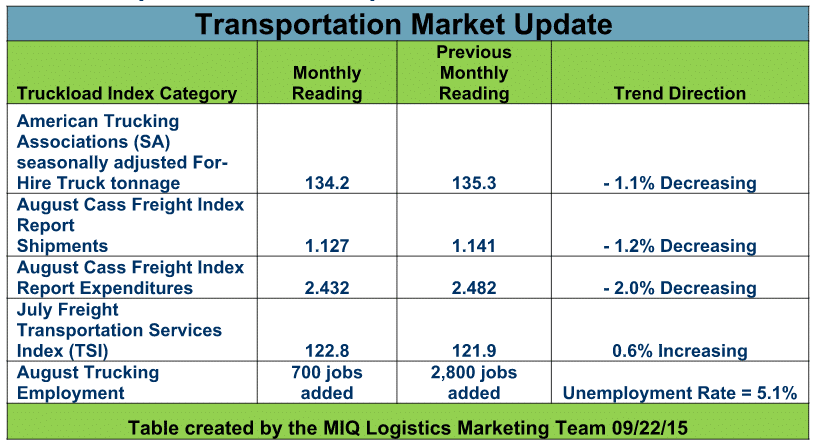 U.S. Customs Automated Commercial Environment (ACE): The U.S. Customs and Border Protection (CBP) is mandating the use of the Automated Commercial Environment (ACE). ACE will provide a single access point for the trade community to report imports and exports to the U.S. government. Please noteNovember 1, 2015 is the beginning of the transition period for using ACE for all electronic cargo release and related entry summary filing. Learn more here.
Deal reached for Trans-Pacific-Partnership (TPP): The trade ministers from the 12 participating TPP countries (Australia, Brunei, Canada, Chile, Japan, Malaysia, Mexico, New Zealand, Peru, Singapore, the United States and Vietnam) after five (5) days of round-the-clock negotiations in Atlanta agreed on Monday, Oct 5, 2015 to the largest regional trade agreement in history. Click here for more information.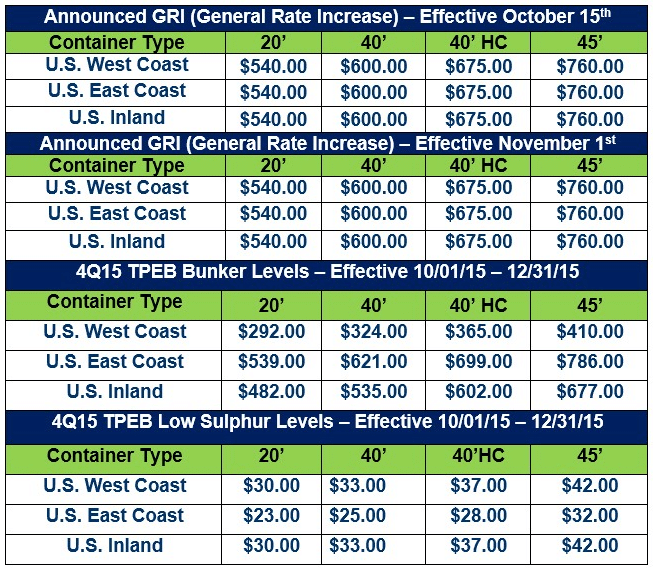 CASE STUDY
KITCHEN EQUIPMENT RETAILER
The Challenge:  A direct seller for kitchen tools in the UK had a distribution process that called for picking all orders in a Chicago facility and shipping them to the UK. The service to European markets was not cost effective and very slow.
The Strategy: MIQ Logistics conducted an investigation on sites throughout Europe for optimal distribution.
The Solution: MIG Logistics began operating as the client's European warehouse in Glasgow. Orders were submitted through their system in Chicago and processed through 100% QA. Once QA was verified, orders were tracked via the internet using their order number.
The Results: MIQ Logistics increased cash flow, reduced lead times by multiple days, reduced shipment delays, and increased customer satisfaction.