Annual growth for import cargo volume at United States-based retail container ports appears to be in the cards with holiday shopping season underway, according to the Global Port Tracker report from the National Retail Federation (NRF) and maritime consultancy Hackett Associates.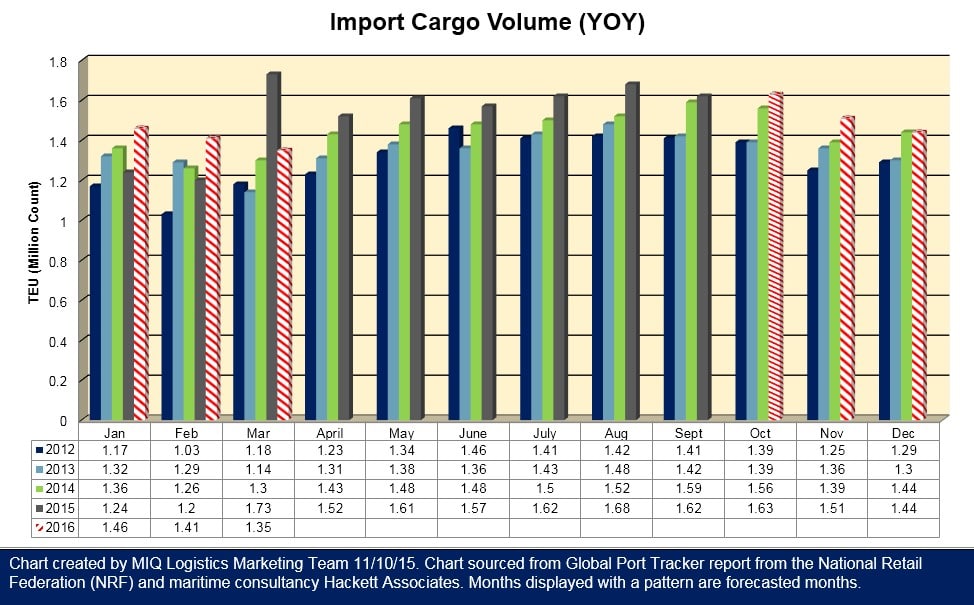 The ports surveyed in the report include: Los Angeles/Long Beach, Oakland, Tacoma, Seattle, Houston, New York/New Jersey, Hampton Roads, Charleston, and Savannah, Miami, and Fort Lauderdale, Fla.-based Port Everglades. Authors of the report explained that cargo import numbers do not correlate directly with retail sales or employment because they count only the number of cargo containers brought into the country, not the value of the merchandise inside them, adding that the amount of merchandise imported provides a rough barometer of retailers' expectations.
"Conditions aren't perfect but the ports are running reasonably well," NRF Vice President for Supply Chain and Customs Policy Jonathan Gold said in a statement. "That's a dramatic difference from this time last year, when the West Coast ports were experiencing slowdowns and congestion from labor negotiations. Retailers had instituted costly contingency plans but were still worried about whether merchandise would be unloaded in time for the holidays. This year, most merchandise has already arrived and replenishment should not be a problem."
The combination of West Coast port labor issues, which hindered port production and throughput from late last year into the first quarter of this year, being settled, and the NRF's forecast of 3.7 percent annual holiday sales gains (for the months of November and December) are expected to drive import volume gains through the end of 2015 and into early 2016.
The Port Tracker report said that for September, the most recent month for which data is available, handled 1.62 million TEU (Twenty-Foot Equivalent Units), which it said was down 3.5 percent compared to August and up 2.2 percent compared to September 2014.
Port Tracker estimates October to come in at 1.63 million TEU for a 4.5 percent annual gain, with November at 1.51 million TEU for an 8.3 percent annual increase. December, January, and February are expected to come in at 1.44 million TEU (for a 0.4 percent annual increase), 1.46 million TEU (for an 18.5 percent annual increase), and 1.41 million TEU (for a 17.9 percent annual increase). The report explained that the projected January and February gains are due to annual comparisons that match up with the period prior to the West Coast port labor agreement being reached for the former and the period right after it was reached for the latter, which the report said are skewed by the labor issues at that time. And March is forecasted to be off 21.9 percent annually at 1.35 million TEU, due to increased volumes after the deal was reached.
If these numbers hold steady, the report said that 2015 would finish with 18.35 million TEU, which would represent a 6.1 percent annual gain. For the first half of 2015, imports saw a 6.5 percent annual gain at 8.9 million TEU.
Hackett Associates Founder Ben Hackett wrote in the report that the current forecast for all of 2015 is now at 6.2 percent for all ports it covers, which he said marks a marginal increase compared to the previous Port Tracker report, as consumers continue a cautious approach to spending. And while the savings ration is below 5 percent, he said it is expected to drop for the early part of the holiday shopping season before heading up in December.
And he added that even though the first GDP estimate for the third quarter came in at a low 1.5 percent, that was due in large part to companies running down large inventories that had climbed because of the West Coast port labor situation. The inventory-to-sales ration could decrease in the coming weeks, too, he said, and drive GDP gains. He also added that "inflation remains non-existent" while unemployment is around 5 percent, with the expectation that will lead to higher sales numbers.
"We are not seeing much of a Peak Season this year because of the inventory overhang," he told LM. "When we see the September numbers, we expect to see an indication that inventory levels are heading down."
Hackett said that compared to a year ago this time, U.S. ports are in a better position as they are not dealing with labor-related issues even though growth is a bit less than what was originally estimated year-to-date (imports to the West Coast from January through October were projected at 9.04 percent, with the actual down off 1 percent at 8.97 million). He also added that compared to the situation in Europe, the U.S. is "booming" by comparison.
>> Click here to read the entire article on Logistics Management.