Keeping in line with its previous edition, the Port Tracker report issued today by the National Retail Federation (NRF) and maritime consultancy Hackett Associates pointed to slow growth in the summer months for United States-based retail container ports.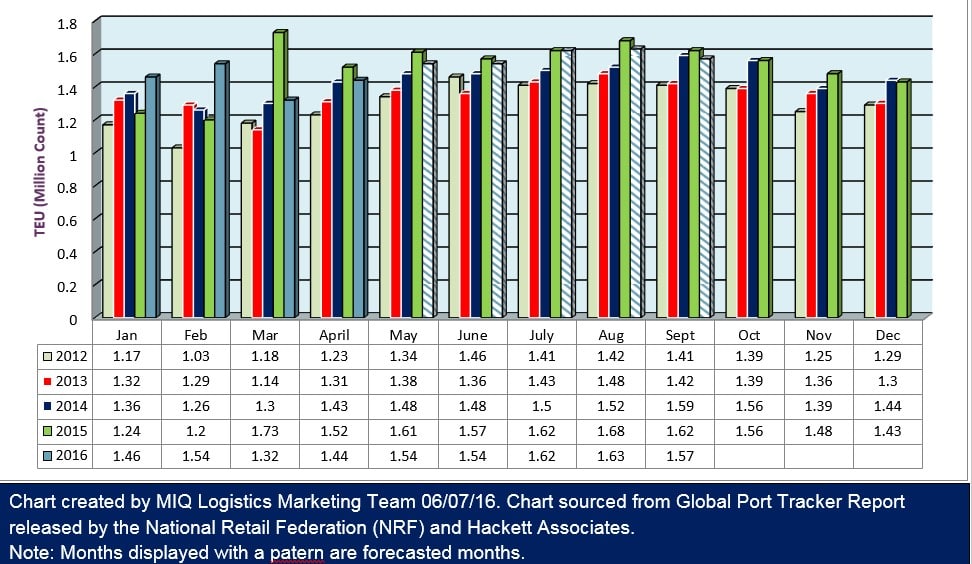 The ports surveyed in the report include: Los Angeles/Long Beach, Oakland, Tacoma, Seattle, Houston, New York/New Jersey, Hampton Roads, Charleston, and Savannah, Miami, and Fort Lauderdale, Fla.-based Port Everglades. Authors of the report explained that cargo import numbers do not correlate directly with retail sales or employment because they count only the number of cargo containers brought into the country, not the value of the merchandise inside them, adding that the amount of merchandise imported provides a rough barometer of retailers' expectations.
"The unusual patterns seen last year in the aftermath of the West Coast ports slowdown are continuing to make valid year-over-year comparisons difficult," NRF Vice President for Supply Chain and Customs Policy Jonathan Gold said in a statement. "Retailers are balancing imports with existing inventories but consumers can expect to see plenty of merchandise on the shelves for both back-to-school and the holidays."
For April, the most recent month for which data is available, total volume was 1.44 million Twenty-Foot Equivalent Units (TEU), which was up 9.1 percent from March and down 4.6 percent annually.
The combination of West Coast port labor issues, which led to congestion, hindered port production and throughput from late 2014 into the first quarter of 2015 were expected to result in atypically high annual comparisons before returning to a more normalized rate in April, which is when 2015 volumes began to stabilize, according to Port Tracker.
May volumes are estimated to be down 4.2 percent annually at 1.54 million TEU, and June is also pegged at 1.54 million TEU for a 1.9 percent annual decline. July (at 1.62 million TEU), August (at 1.63 million TEU), and September (at 1.57 million TEU) are expected to be up 0.2 percent, down 3 percent, and down 3.5 percent, respectively.
Port Tracker said that the first half of 2016 is expected to come in at 8.9 million TEU, which would mark 0.3 percent annual gain over the same period in 2015.
Hackett Associates Founder Ben Hackett wrote in the report that his firm's port models are projecting weak imports in volume terms, not to be confused with total dollar value.
As for the underlying reason for projected low volume imports, Hackett pointed to the common theme of still-high inventories.
"Inventories remain very high, pointing to an overstocked situation that will depress the volume of imports in the coming peak season," he wrote. "All the excitement about volume growth in the first four months is based by the data from 2015. On a year-to-date level, things are not so exciting. Unless inventories drop through further consumer spending, import growth will remain sparse."
Other factors weighing on import growth cited by Hackett included: May's jobs report being the lowest in nearly six years and reflecting concern about U.S. growth; workers' pay increased 2.5 percent for the 12-month period ending in May, which could translate into increased retail spending; and consumer confidence in May was ahead of April but below expectations.
>> Click here to access the entire article from Logistics Management.