Slow to lackluster global trade themes were apparent in the most recent edition of the Port Tracker report released today by the National Retail Federation (NRF) and maritime consultancy Hackett Associates.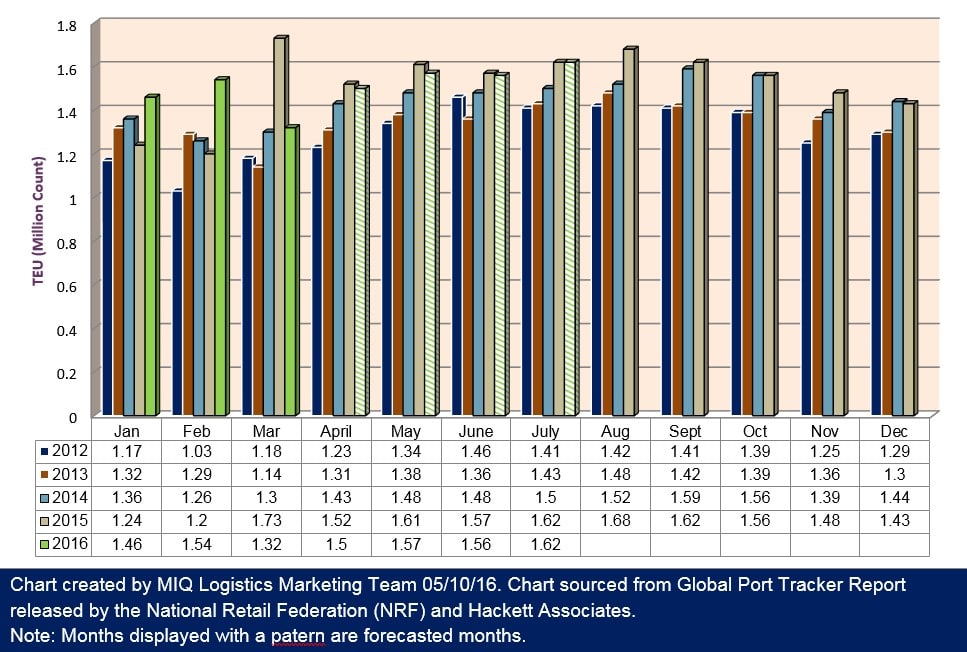 The ports surveyed in the report include: Los Angeles/Long Beach, Oakland, Tacoma, Seattle, Houston, New York/New Jersey, Hampton Roads, Charleston, and Savannah, Miami, and Fort Lauderdale, Fla.-based Port Everglades. Authors of the report explained that cargo import numbers do not correlate directly with retail sales or employment because they count only the number of cargo containers brought into the country, not the value of the merchandise inside them, adding that the amount of merchandise imported provides a rough barometer of retailers' expectations.
"Retailers are importing less merchandise than last year but these are still some of the highest numbers we've ever seen," NRF Vice President for Supply Chain and Customs Policy Jonathan Gold said in a statement. "Carefully managing imports will balance out high inventory levels but consumers can still expect to see a deep and broad selection of products."
For March, the most recent month for which data is available, total volume was 1.32 million Twenty-Foot Equivalent Units (TEU), which was off 14.2 percent from February, due in part to what the report called a carryover from Chinese New Year factory closings. March was off 23.7 percent from the all-time high of 1.73 million TEU set in March 2015, which saw a massive uptick in volumes following the signing of a new labor contract between the Pacific Maritime Association and the International Longshore and Warehouse Union. A tentative contract between the parties was signed in February 2015.
March 2015 replaced September 2014's 1.59 million TEU as the highest-volume month ever, and in subsequent months saw volumes as high as 1.68 million TEU before volumes settled down, while the report's projection for August at 1.62 million TEU would stand among the top 6 months on record.
As previously reported, the combination of West Coast port labor issues, which led to congestion, hindered port production and throughput from late 2014 into the first quarter of 2015 are expected to result in atypically high annual comparisons before returning to a more normalized rate in April, which is when 2015 volumes began to stabilize, according to Port Tracker.
April volumes are estimated to be down 0.8 percent annually at 1.5 million TEU, and May is pegged at 1.57 million TEU for a 2.7 percent annual decline. June (at 1.56 million TEU), July (at 1.61 million TEU), and August (at 1.62 million TEU) are expected to be down 0.8 percent, down 0.6 percent, and down 3.7 percent, respectively.
Port Tracker said that the first half of 2016 is expected to come in at 9 million TEU, which would represent a 1.4 percent annual gain over the same period in 2015.
Hackett Associates Founder Ben Hackett wrote in the report that a combination of things is driving the current state of lackluster trade activity, including low GDP and slowing consumer spending and retail sales.
"What is the cause of this slowdown in consumption? We believe that the repercussions of the Great Recession remain with us as consumers have been seriously impacted by the two years of doubt and uncertainty," Hackett wrote in the report. "Real disposable income is healthy, but real consumer spending virtually dropped away in January and March."
Hackett also pointed out that disposable income appears to be making its way into consumer savings, as evidenced by the personal saving rate at 5.0 or higher for the last five quarters, which is well-down from the post-recessionary period and double the rate of pre-recession levels.
In an interview, Hackett explained that in recent months there has been little or no growth in real disposable income, as well as consumer spending, with the savings ratio "stubbornly high" still.
"What that tells us is that consumers are not spending money and if consumers are not spending money that means around 70 percent of GDP is impacted by that," he said. "All signs point to things remaining slow to flat. Our model points to the economy growing 0.3 percent for the full year, with trade volumes lackluster to flat, and consumers are hesitant and still scarred by the recession which is clear with the purchasing patterns we are seeing."
>> Click here to read the entire article from Logistics Management.