Import cargo volume at the nation's major retail container ports should see its traditional buildup toward the summer despite difficult comparisons with last year's unusual patterns, according to the monthly Global Port Tracker report released today by the National Retail Federation and Hackett Associates.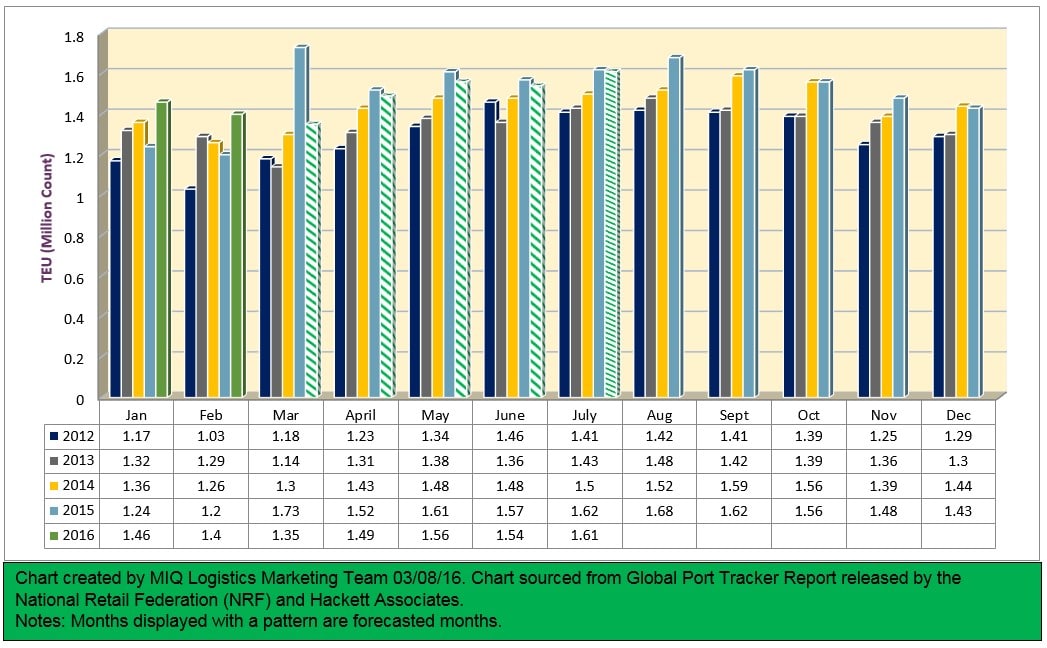 "Comparisons are still complicated because of last year's situation at the West Coast ports but should clear up in the second half of the year," NRF Vice President for Supply Chain and Customs Policy Jonathan Gold said. "Year-over-year numbers are skewed but on a monthly basis imports are building normally as the back-to-school season approaches."
Ports covered by Global Port Tracker handled 1.5 million Twenty-Foot Equivalent Units in January, the latest month for which after-the-fact numbers are available. That was up 4.4 percent from December and 21.4 percent from unusually low figures in January 2015, the month before a new contract with dockworkers was signed to end a near-shutdown at West Coast ports. One TEU is one 20-foot-long cargo container or its equivalent.
February was estimated at 1.4 million TEU, up 17.1 percent from the same month in 2015 and also skewed by last year's congestion. March is forecast at 1.35 million TEU, down 22.2 percent from the flood of traffic seen as the backlog of cargo began to move through ports at this time last year. April is forecast at 1.49 million TEU, down 1.8 percent from last year; May at 1.56 million TEU, down 3.4 percent; June at 1.54 million TEU, down 1.6 percent; and July at 1.61 million TEU, down 0.4 percent.
The first half of 2016 is expected to total 8.8 million TEU, down 0.2 percent from the same period in 2015. Total volume for 2015 was 18.2 million TEU, up 5.4 percent from 2014.
With cargo volume down so far this year, Hackett Associates Founder Ben Hackett said recent decisions by major shipping lines to add new super-large capacity vessels to routes between Asia and the U.S. West Coast are likely to bring lower shipping rates at the risk of "chaos" in the balance between supply and demand.
"Does this make sense? Absolutely not," Hackett said. "It flies in the face of financial and economic wisdom and totally ignores the state of the freight market."
>> Click here to view the entire article from National Retail Federation.