Source: National Retail Federation
With retail sales rising and retailers rushing to bring merchandise into the country ahead of proposed new tariffs on products from China, imports at the nation's major retail container ports have set two new records this summer and are expected to set another this month, according to the monthly Global Port Tracker report released today by the National Retail Federation and Hackett Associates.
"Tariffs on most consumer products have yet to take effect but retailers appear to be getting prepared before that can happen," NRF Vice President for Supply Chain and Customs Policy Jonathan Gold said. "We're seeing new record levels every month this summer. Much of that is to meet consumer demand as tax reform and a thriving economy drive retail sales, but part of it seems to be concern over what's to come. The good news for consumers is that avoiding tariffs holds off price increases that will inevitably come if the reckless and misguided trade war is allowed to continue."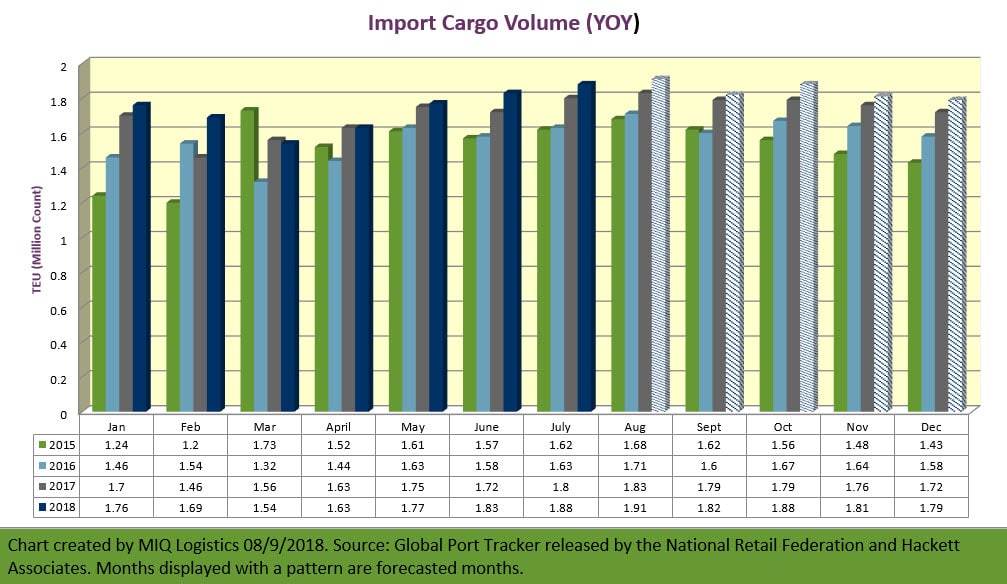 "Global Port Tracker has only marginally downgraded imports for 2018 but we expect to see a larger downturn going into 2019 resulting from the trade war as well as an anticipated slowing of the economy," Hackett Associates Founder Ben Hackett said. "The volatility and non-fact-based decisions coming from Washington have created uncertainty."
Ports covered by Global Port Tracker handled 1.85 million Twenty-Foot Equivalent Units in June, the latest month for which after-the-fact numbers are available. That was up 1.6 percent from May and up 7.8 percent year-over-year. A TEU is one 20-foot-long cargo container or its equivalent.
July was estimated at 1.88 million TEU, up 4.4 percent year-over-year. August is forecast at 1.91 million TEU, up 4.4 percent; September at 1.82 million TEU, up 2.1 percent; October at 1.88 million, up 4.9 percent; November at 1.81 million TEU, up 2.6 percent, and December at 1.79 million TEU, up 4 percent.
The June number set a new record for the number of containers imported during a single month, beating the previous record of 1.83 million TEU set in August 2017. The July estimate – which is subject to revision when the numbers become final – appeared to take the record higher and August should set yet another record.
While cargo numbers do not correlate directly with sales, the record imports mirror strong results seen by retailers this spring and summer that are expected to continue through the remainder of the year. Retail sales as calculated by NRF – excluding automobiles, restaurants and gasoline stations – were up 4.2 percent year-over-year in June and up 4.4 percent on a three-month moving average. NRF is forecasting that total 2018 sales will be up between 3.8 percent and 4.4 percent over 2017.
The first half of 2018 totaled 10.3 million TEU, an increase of 5.1 percent over the first half of 2017. The total for 2018 is expected to reach 21.4 million TEU, an increase of 4.4 percent over last year's record 20.5 million TEU.