With the holiday season over, import cargo volume at the nation's major retail container ports is expected to slowly decline through the first quarter of the year, according to the monthly Global Port Tracker report released today by the National Retail Federation and Hackett Associates.
"This is the time of year when the retail supply chain catches its breath before the next big rush begins," NRF Vice President for Supply Chain and Customs Policy Jonathan Gold said. "Retailers are still tallying the bottom line of the holiday season, but they're also making plans for the spring and summer."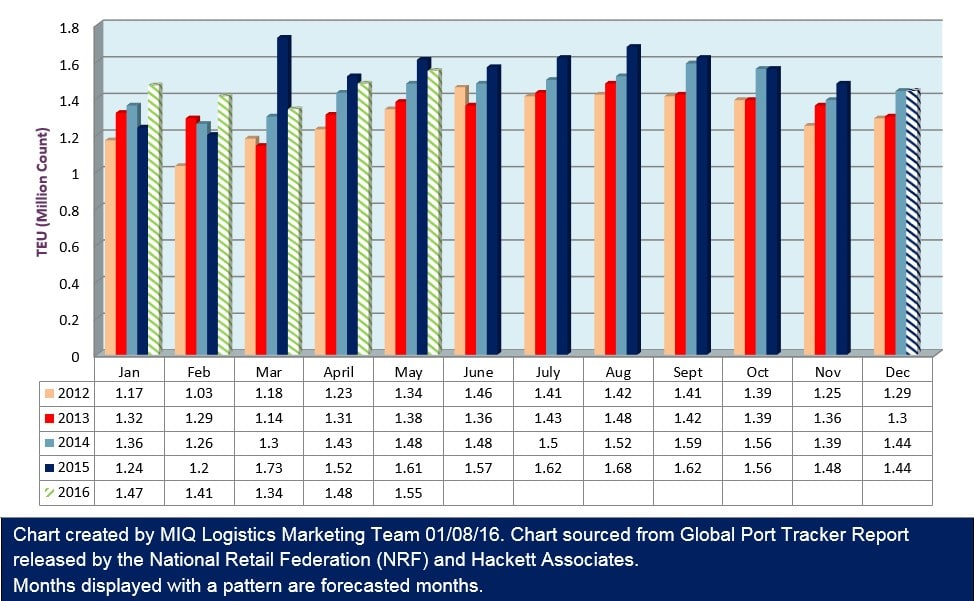 Ports covered by Global Port Tracker handled 1.48 million Twenty-Foot Equivalent Units in November, the latest month for which after-the-fact numbers are available. With most holiday merchandise already in the country by that point, volume was down 5 percent from October but up 6 percent from the year before. December was estimated at 1.44 million TEU, the same as 2014. One TEU is one 20-foot-long cargo container or its equivalent.
The numbers are still subject to revision, but 2015 came to a preliminary total of 18.2 million TEU, up 5.4 percent from 2014.
This month is forecast at 1.47 million TEU, up 18.9 percent from weak volume seen a year ago just before agreement on a contract with West Coast dockworkers ended months of congestion. February is forecast at 1.41 million TEU, up 17.5 percent, also skewed by the congestion. March is forecast at 1.34 million TEU, down 22.4 percent from high levels seen when a flood of backlogged cargo followed the contract agreement. Patterns are expected to return to normal in April, which is forecast at 1.48 million TEU, down 1.8 percent from last year. May is forecast at 1.55 million TEU, down 3.5 percent from last year.
Hackett Associates Founder Ben Hackett said inventory levels remain high, partly because of warm weather that reduced demand for winter clothing.
"We continue to remain concerned about the high inventory-to-sales ratio," Hackett said. "Enough time has passed since the disruption on the West Coast that we can no longer look to that for justification of the high level."
>> Click here to access the entire article from the National Retail Federation