Import cargo volume at the nation's major retail container ports is expected to increase 3.3 percent this month over the same time last year as retailers make final preparations for the holiday season, according to the monthly Global Port Tracker report released today by the National Retail Federation and Hackett Associates.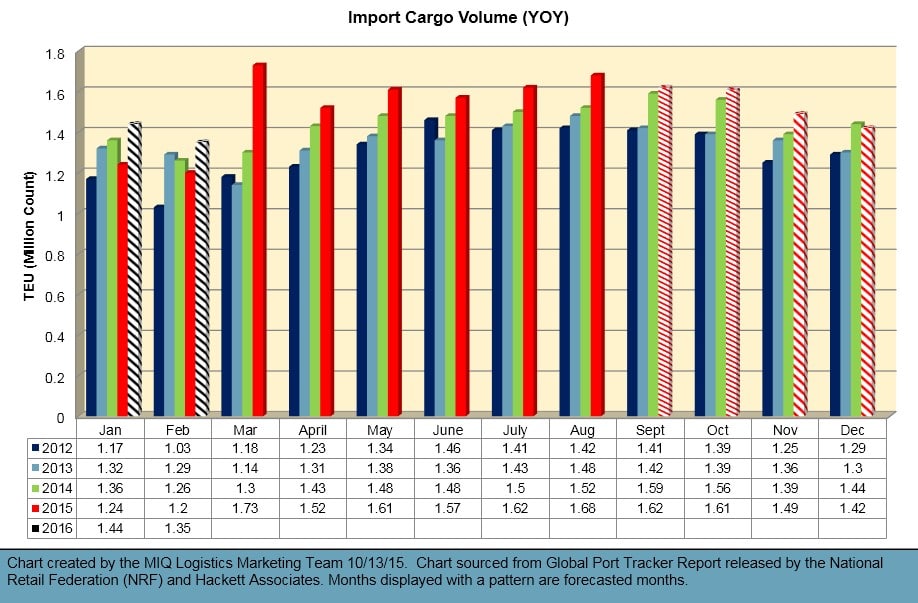 "The holidays are almost here, and retailers are ready," NRF Vice President for Supply Chain and Customs Policy Jonathan Gold said. "Merchants have been stocking up since summer, and there should be plenty on the shelves as consumers begin their holiday shopping."
The cargo report comes a day after NRF forecast 3.7 percent growth in holiday sales this year over 2014. While imports provide a barometer of retailers' expectations, cargo volume does not directly correlate with sales figures because each container counts the same regardless of the value of its content.
Ports covered by Global Port Tracker handled 1.68 million Twenty-Foot Equivalent Units in August, the latest month for which after-the-fact numbers are available. That was up 3.9 percent from July and 10.4 percent from a year ago. One TEU is one 20-foot-long cargo container or its equivalent.
September was estimated at 1.62 million TEU, up 2.1 percent from 2014. October is forecast at 1.61 million TEU, up 3.3 percent from last year; November at 1.49 million TEU, up 7.2 percent, and December at 1.42 million TEU, down 0.9 percent.
Those numbers would bring 2015 to a total of 18.3 million TEU, up 5.7 percent from last year. The first half of 2015 totaled 8.9 million TEU, up 6.5 percent over the same period last year.
January 2016 is forecast at 1.44 million TEU, up 16.5 percent from weak numbers seen a year earlier just before West Coast dockworkers agreed on a new contract that ended a months-long labor dispute. February is forecast at 1.35 million TEU, up 12.9 percent, also skewed by the labor dispute.
Hackett Associates Founder Ben Hackett said West Coast ports have largely recovered their share of cargo following the labor dispute, with the West Coast accounting for 59 percent, the East Coast 37 percent and the Gulf Coast 4 percent. But the inventory-to-sales ratio remains "stubbornly high" because of the influx of cargo that came through after the dispute ended.
>> Click here to read the entire press release from National Retail Federation.