United States Department of Transportation
The Freight Transportation Services Index (TSI), which is based on the amount of freight carried by the for-hire transportation industry, rose 0.2 percent in September from the revised August level, rising after remaining unchanged in the previous month, according to the U.S. Department of Transportation's Bureau of Transportation Statistics (BTS). The September 2015 index level (123.4) was 30.3 percent above the April 2009 low during the most recent recession.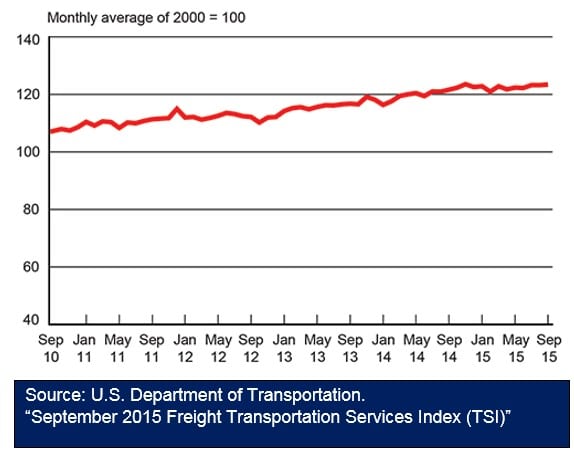 The August index was revised to 123.2 from 123.5 in last month's release.
The Freight TSI measures the month-to-month changes in freight shipments by mode of transportation in tons and ton-miles, which are combined into one index. The index measures the output of the for-hire freight transportation industry and consists of data from for-hire trucking, rail, inland waterways, pipelines and air freight. Changes in global trade will not directly affect the TSI, which measures domestic freight shipments.
Trend: The Freight TSI has virtually returned to its all-time high reached in November 2014 following a period in which there were five monthly increases, four monthly decreases and one month that was unchanged. The index was just 0.1 percent lower than the November peak. After dipping to 94.7 in April 2009, the index rose 30.3 percent in the succeeding 77 months. For additional historical data, go to TSI data
The Freight TSI increased in the third quarter of 2015 by 1.0 percent, the largest quarterly increase since the third quarter of 2014.
Analysis: The Freight TSI increase was limited to fewer modes than it has been in many previous months – trucking, air freight and pipeline showed significant gains, while rail carload, rail intermodal and waterborne decreased. While there was a decline in the Federal Reserve Board Industrial Production index, which TSI often tracks, other indicators of the general economy – employment, personal income, and housing starts – all increased.
Index highs and lows: Freight shipments in September 2015 (123.4) were 30.3 percent higher than the recent low in April 2009 during the recession (94.7). The September 2015 level was 0.1 percent below the historic peak reached in November 2014 (123.5).