During the month of September 2019, Noatum Logistics (formerly MIQ Logistics) was involved in a number of events throughout the logistics industry. Read about industry updates, regulatory updates, a case study, events, and careers at Noatum Logistics in the September 2019 logistics link.
Regulatory Updates
On Tuesday, September 17, 2019, the United States Trade Representative (USTR) office released three notices of product exclusions to the Section 301 List 1-3 products currently subject to a 25% tariff. Read more.
On Wednesday, September 11, 2019, the president of the United States announced that "as a gesture of good will" the United States will delay the 5% increase in tariffs on $250 billion worth of Chinese imports originally scheduled for October 1, 2019. Read more.
Industry News
Imports at the nation's major retail container ports reached unusually high numbers just before new tariffs on goods from China took effect September 1, and are expected to surge again before another round of tariffs takes effect in December, according to the monthly Global Port Tracker report released September 11, by the National Retail Federation and Hackett Associates. Read more.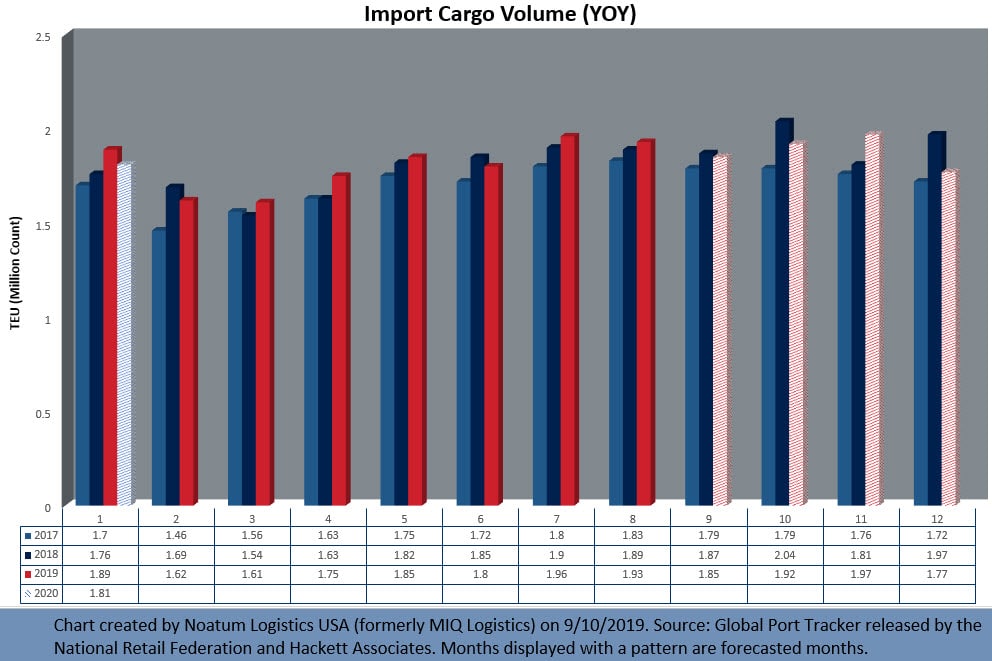 Economic activity in the manufacturing sector contracted in August, and the overall economy grew for the 124th consecutive month, say the nation's supply executives in the latest Manufacturing ISM® Report On Business®. Read more.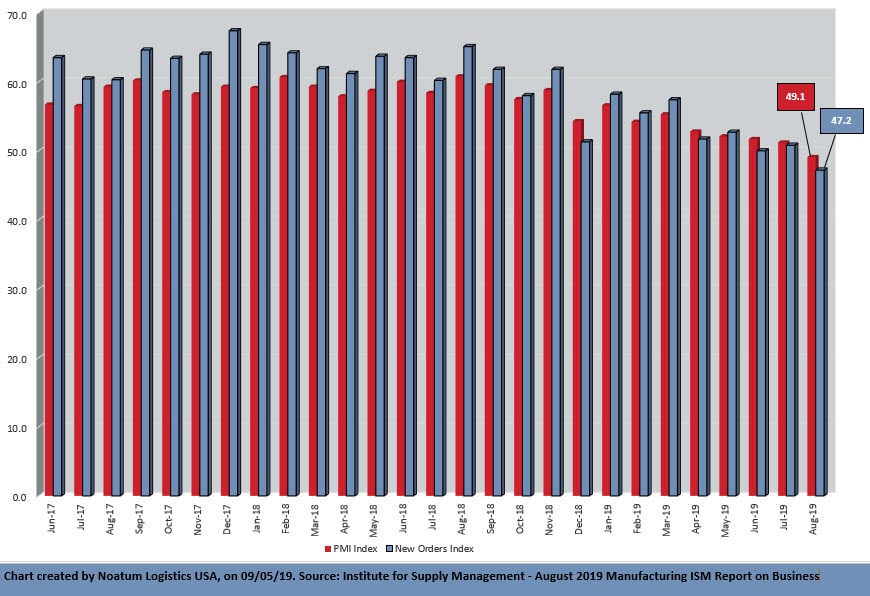 Announced levels for upcoming Transpacific Eastbound GRIs, PSSs and LSFs from carriers can now be accessed anytime from our MIQ.com – Resources – Information and Tools page.
Case Study – Oilfield Equipment Wholesaler
This Noatum Logistics USA (formerly MIQ Logistics) customer sells, installs, maintains and repairs pumping units for oilfield operations in Canada and the northern United States. The customer contacted Noatum Logistics USA based on the referral of another equipment provider in the oil and gas industry.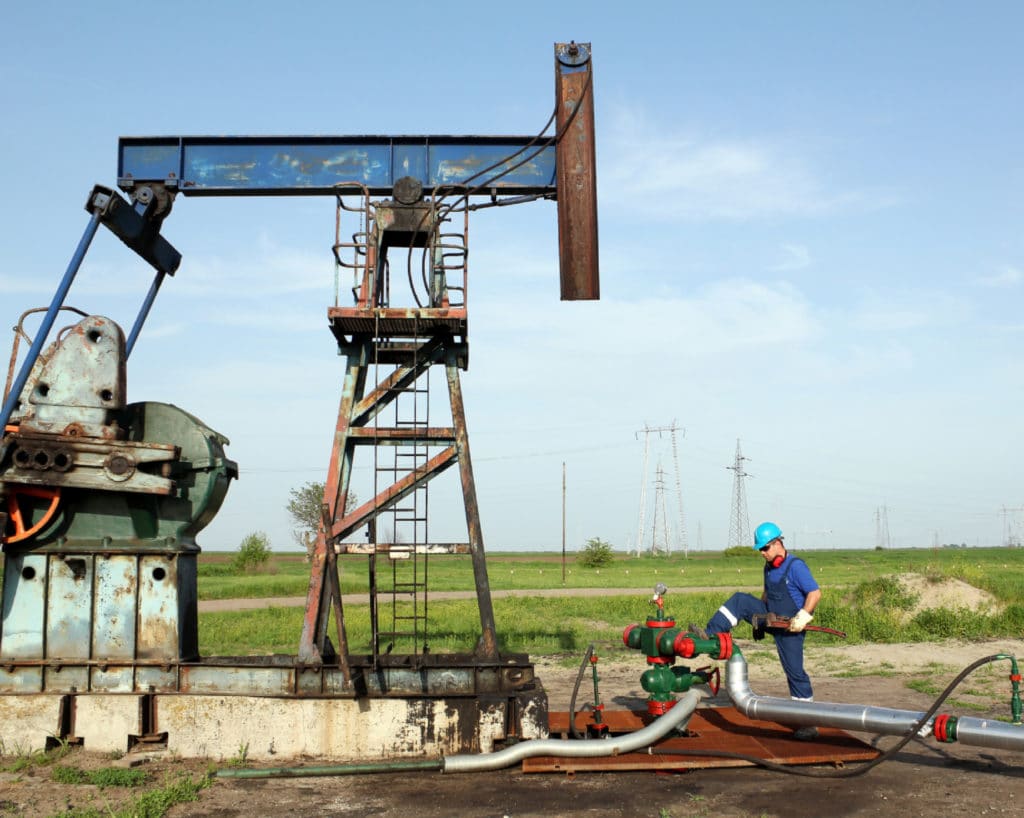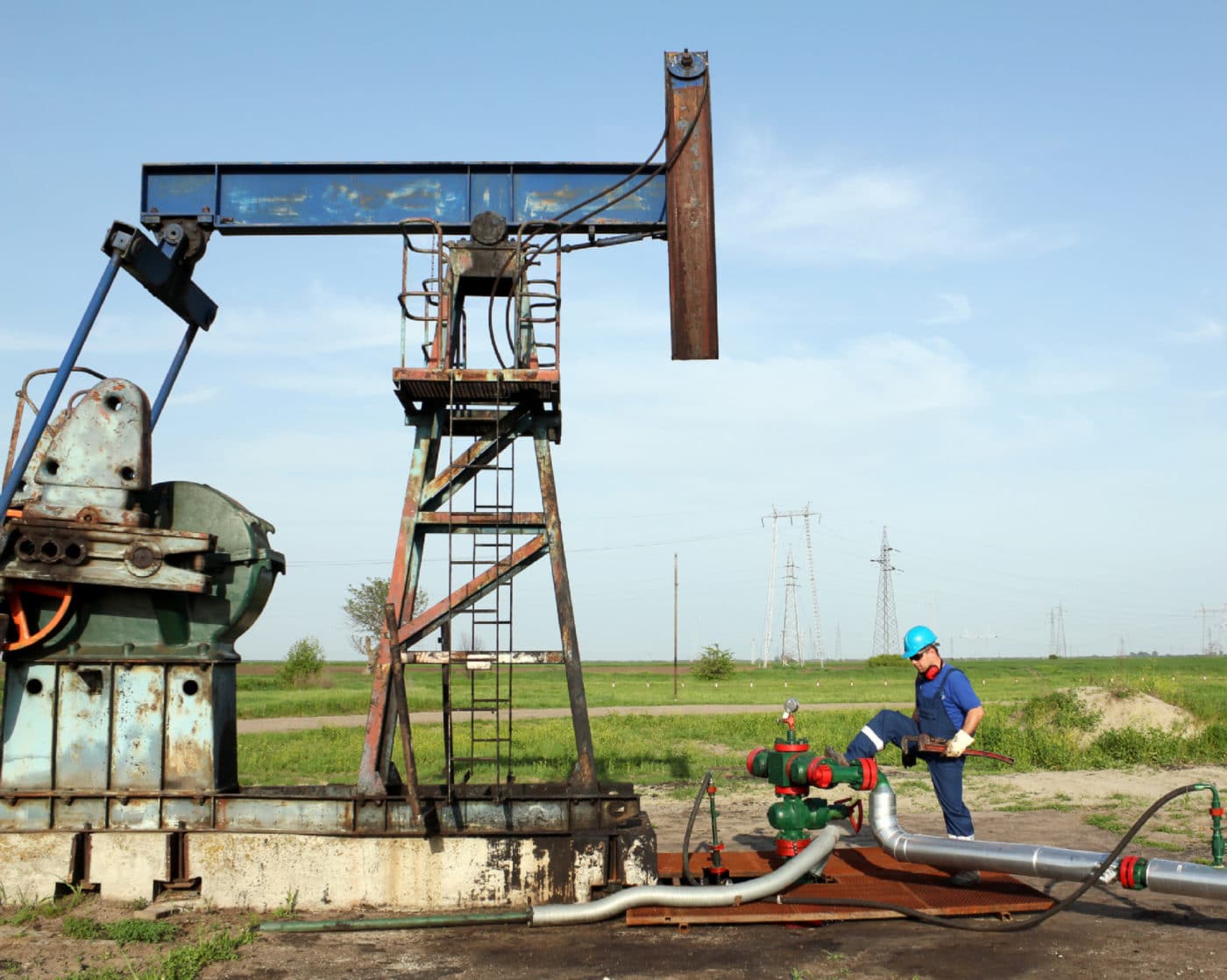 The customer suspected they were being overcharged for shipping. They were not using freight forwarders. Instead, they were allowing manufacturers to arrange for the ocean freight shipping of the heavy equipment from China to Canada.
Noatum Logistics USA analyzed the size, weight and timing of the product being exported from China to determine if there were opportunities at origin to combine loads and reduce the number of shipping containers each month.
Noatum Logistics USA implemented a load optimization plan, which combines smaller pumping units with extra parts from larger units. For their larger pieces, which normally shipped on flat racks, Noatum Logistics USA negotiated higher weight limits with the ocean lines. This resulted in drastically reducing the customer's container count and ocean freight costs.
Noatum Logistics USA saved the customer more than $24,000 on the first shipment handled for them. Estimated annualized savings are $150,000 for just one of the customer's product models. Industry expertise and product knowledge in both China and North America have contributed to smooth supply chain operations.
Events
Breakbulk Americas: Booth #N1
Make plans to stop in and visit members of the Noatum Logistics team at Breakbulk Americas.
George R. Brown Convention Center
Houston, Texas, USA
October 8 – 10, 2019

Noatum Logistics representatives will also be attending the following events.
Contact your local Noatum Logistics representative to arrange a time to meet and catch up!
Supply Side West
Mandalay Bay
Las Vegas, Nevada, USA
October 15 – 19, 2019
Fall High Point Market 2019
High Point, North Carolina, USA
October 19 – 23, 2019
Careers at Noatum Logistics USA
It is an excellent time to consider a career at Noatum Logistics USA (formerly MIQ Logistics)! As part of this extensive worldwide organization, Noatum Logistics USA offers a variety of opportunities for our employees around the globe. As our true sustainable competitive advantage, our employees make a difference for our customers every day.
Noatum Logistics, a leading player in the global logistics industry, currently has openings in the following locations: Chicago, IL, Houston, TX, and Overland Park, KS. View our current openings here and apply today!