In preparation of Hurricane Laura, Noatum Logistics will be closing our Houston office effective 17:00 CDT Wednesday, August 26.  Based on the most recent reports, we expect Hurricane Laura to quickly strengthen to a category 3 storm and make landfall between the Texas and Louisiana border.  Hurricane and tropical storm conditions are expected to reach the Houston area beginning late Wednesday evening through Thursday.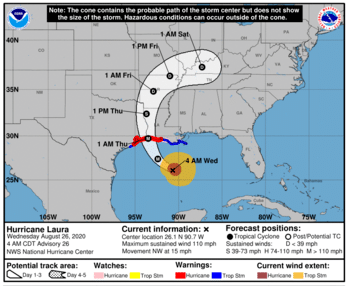 Several of Houston's terminals have also announced temporary closures, including Manchester Terminal, Bayport and Barbours Cut container terminals.  For Port Houston terminal updates, please click here.
Noatum Logistics will closely monitor local conditions throughout the day on Thursday, and plan to reopen, if possible, at 08:00 CDT Friday, August 28.  We will be working closely with our sister offices to minimize any service disruptions; however, customers may experience minor delays to their supply chains throughout the next several days.
For more information, please visit the National Hurricane Center website.