Please be advised that several carriers have announced significant increases to their FAK levels from North Europe to the USA. These changes will affect current tariff rates. Impact on contract rates is not clear, and would likely not be as severe, but the market will definitely support some increases.
Note that North Europe comprises UK, Belgium, Germany and Netherlands, so this does not impact any West Mediterranean ports at this time, but we should be aware of this shift, as carriers may choose to expand the increases at some point. Any changes would have to be announced 30 days in advance of implementation.
Below are the rate levels to take effect for Hapag Lloyd and CMA-CGM.
Hapag Lloyd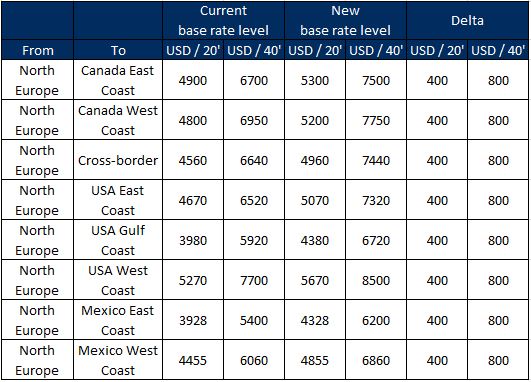 CMA/CGM

Noatum Logistics is working diligently on limiting these impacts for our customers. For more information, please contact your local Noatum Logistics USA representative.