With most holiday merchandise safely in the country despite significant congestion impacting West Coast ports, import cargo volume at the nation's major retail container ports is expected to continue to slow down this month, according to the monthly Global Port Tracker report released today by the National Retail Federation and Hackett Associates.
"Retailers instituted costly contingency plans early on to ensure that holiday merchandise would be on the shelves or sitting in a warehouse ready to go," NRF Vice President for Supply Chain and Customs Policy Jonathan Gold said. "However, we are still hearing from retailers experiencing delays at West Coast ports, and retailers are also looking ahead to the spring season. We believe it's imperative for President Obama to encourage the parties to seek the help of a federal mediator to resolve the ongoing contract negotiations so serious solutions to address the ongoing issues can be discussed and the uncertainty that has plagued our nation's busiest ports for months can finally be brought to an end."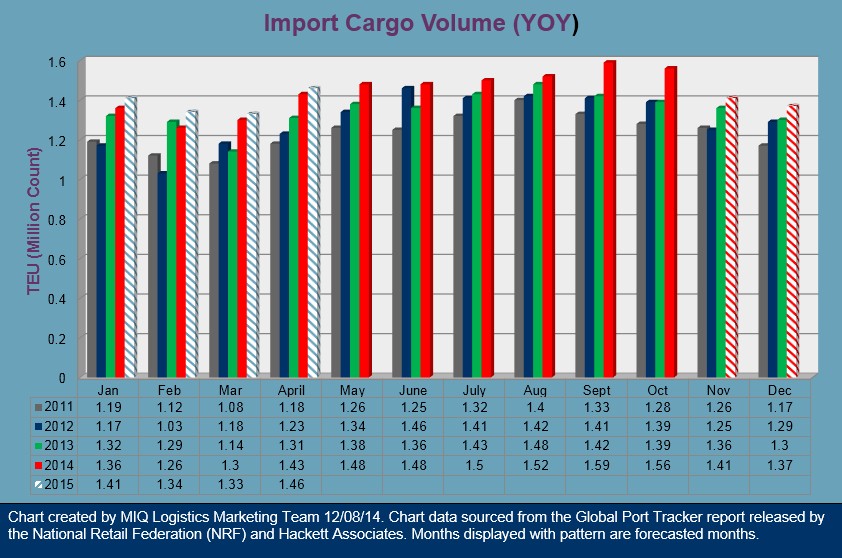 Import volume at U.S. ports covered by the Global Port Tracker report is expected to total 1.37 million containers this month as the holiday shipping cycle winds down. Imports set an all-time record of 1.59 million containers in September as retailers rushed to bring merchandise into the country ahead of any disruption on the docks.
The contract between the Pacific Maritime Association and the International Longshore and Warehouse Union expired on July 1, prompting concerns about potential disruptions that could affect holiday merchandise. The lack of a contract and other operational issues have led to crisis-level congestion at the ports, and NRF last month asked President Obama to engage with the parties and encourage the use of a federal mediator to help with negotiations. A federal mediator can only be used if the parties make the request. A federal mediator helped parties to East Coast labor negotiations achieve a new deal in 2012.
Ports covered by Global Port Tracker handled 1.56 million Twenty-Foot Equivalent Units in October, the latest month for which after-the-fact numbers are available. That was down 2 percent from September but up 8.5 percent from October 2013 as the economy continued to grow. One TEU is one 20-foot cargo container or its equivalent.
November was estimated at 1.41 million TEU, up 4.8 percent from last year, and December is forecast at 1.37 million TEU, up 3.8 percent.
>> Click here to read the entire article from the National Retail Federation.