Noatum Logistics has received notifications from two of our core ocean carriers, one within THE Alliance and the other a partner in the Ocean Alliance, announcing 28 voided sailings between February 5 and February 26. A full table of all blank sailings announced as of this week is provided at the bottom of the alert. These blank sailings are due to ongoing schedule delays driven by the continuous global terminal congestion related to the COVID-19 pandemic. It is important to understand that these blank sailings are not in reaction to weak cargo volumes or the pending Lunar New Year holiday but are in fact due to vessel bunching up at congested ports.
Schedule delays and port congestion are not uncommon during peak shipping periods and carriers would normally put an ad hoc or extra loader vessel into service to get their schedule back on track. Unfortunately, that is not possible in the current environment. Currently, the ocean carriers have their fleets fully deployed. There is not enough idle ship capacity that can be pulled into service to address the delays.
As of Wednesday, January 27, there were 41 vessels at anchor waiting in the San Pedro Bay that service the Los Angeles and Long Beach port complex and another 30 at berths. Compounding the issue is the COVID-19 situation amongst dockworkers. Positive COVID-19 cases are on the rise with purportedly just over 800 positive cases as of Monday, January 25, up 16% from the week prior leading to labor shortages.
As we close out the January calendar, the majority of vessel capacity sailing prior to the Lunar New Year holiday, February 12, is fully booked and allocated. Shippers are booking vessel space sailing post the Lunar New Year break, but the reality is that although bookings may be confirmed, the vessels will not be returning as scheduled and ETAs will continue to slide to later in the month.
Terminal Operations Updates:
   U.S. West Coast
LA/LB – Currently 41 container ships anchored outside of the port

Terminal congestion is at critical levels with some terminals above capacity
Current ships at anchor average is 7.5 days
Lack of Rail Cars
Lack of chassis and truck shortage
Berth congestion expected to continue if not worsen over the next 6 weeks
Around 800 dockworkers at the ports of LA/LB have contracted coronavirus

OAK – Currently 9 container ships anchored outside of the port complex with 5 more inbound
   U.S. East Coast
NY/NJ – Currently experiencing berth congestion due to schedule delays and vessels off- proforma
Terminal gate is by appointment only – after 1300 open gate with no appointments needed
Rail Operations:
Congestion in Terminal Rail Operations/Dwell Times:
Shortage of rail cars and terminal capacity issues are adding to dwell times on terminals for the USWC due to metering of capacity issues on terminals
CAN/VCR – Average 3.3 days dwell
SEA/TAC – Average 3.90 days dwell (SEA), 2.60 days dwell (TAC)
LA/LB – Average 8.9 days dwell
NY/NJ – Average 5.50 days dwell
Norfolk – Average 2.75 days dwell
Wilmington – Average 3.00 days dwell
Charleston – Average 3.52 days dwell
Jacksonville – Average 2.25 days dwell
Void Sailings: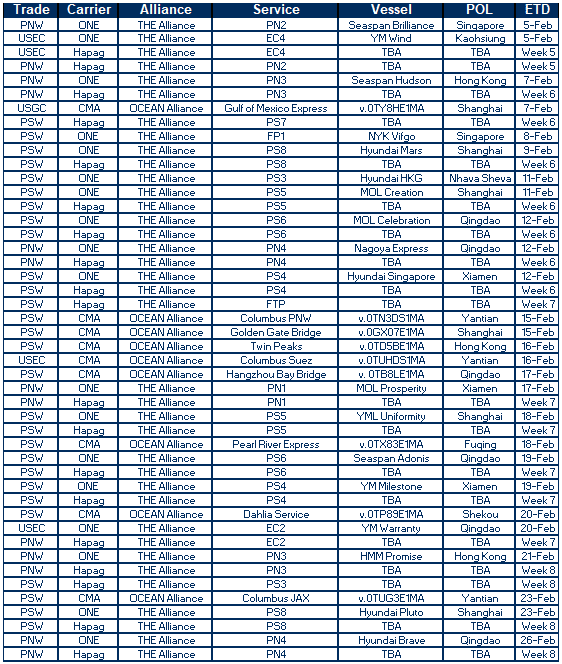 Noatum Logistics is working diligently on limiting these impacts for our customers.  If you have any questions, please reach out to your Noatum Logistics representative.