Source: National Retail Federation Press Release-  June 8, 2022
WASHINGTON – Imports at the nation's major retail container ports should see near-record volume again this month as retailers work to meet still-strong consumer demand and also protect themselves against potential disruptions at West Coast ports, according to the monthly Global Port Tracker report released today by the National Retail Federation and Hackett Associates.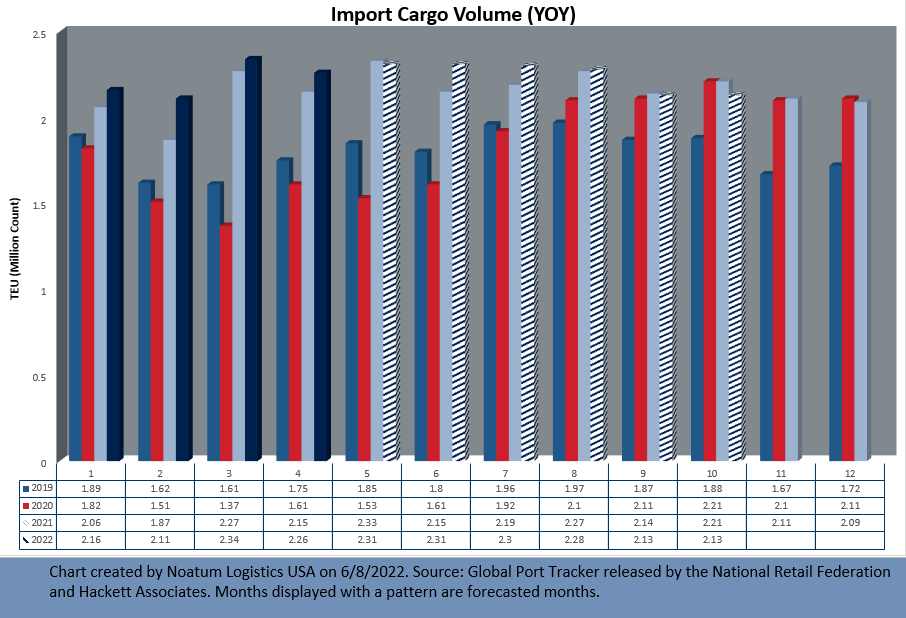 "We're in for a busy summer at the ports," NRF Vice President for Supply Chain and Customs Policy Jonathan Gold said. "Back-to-school supplies are already arriving, and holiday merchandise will be right behind them. And the big wild card is what will happen with West Coast labor negotiations with the current contract set to expire on July 1. We continue to encourage the parties to remain at the table until a deal is done, but some of the surge we've seen may be a safeguard against any problems that might arise."
U.S. ports covered by Global Port Tracker handled 2.26 million Twenty-Foot Equivalent Units – one 20-foot container or its equivalent – in April, the latest month for which final numbers are available. That was down 3.6 percent from March's 2.34 million TEU – the record for the number of containers imported in a single month since NRF began tracking imports in 2002 – but up 5.1 percent year over year.
Ports have not yet reported May numbers, but Global Port Tracker projected the month at 2.31 million TEU, down 0.9 percent from 2.33 million TEU in May 2021, the second-busiest month on record. June is also forecast at 2.31 million TEU, up 7.5 percent year over year, which would leave May and June tied for the third-highest volume.
July is forecast at 2.3 million TEU, up 4.8 percent from last year; August at 2.28 million TEU, up 0.2 percent; September at 2.13 million TEU, down 0.4 percent, and October also at 2.13 million TEU, down 3.8 percent.
The first six months of 2022 are expected to total 13.5 million TEU, up 5.3 percent year over year. Imports for all of 2021 totaled 25.8 million TEU, a 17.4 percent increase over 2020's previous annual record of 22 million TEU.
Click here to access the National Retail Federation website for the entire press release.