Source: National Retail Federation
Imports at the nation's major retail container ports are expected to remain at near-record levels this month despite a new round of tariffs that took effect in September, according to the monthly Global Port Tracker report released today by the National Retail Federation and Hackett Associates.
"Retailers are continuing to import merchandise in order to meet consumer demand even though tariffs are now in place on roughly half the goods imported from China and the trade war is still escalating," NRF Vice President for Supply Chain and Customs Policy Jonathan Gold said. "Retailers are doing their best to mitigate the impact on their customers, but they are not able to quickly or easily change their sourcing. That means these tariffs will eventually mean higher prices for American consumers."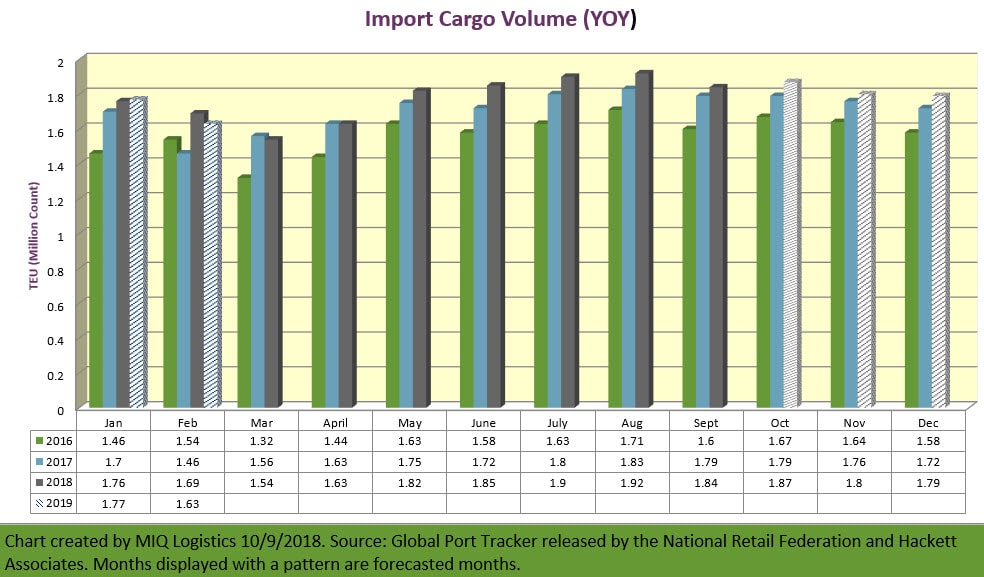 "The third round of tariffs is now in place, an increase in the level of tariffs is coming, and further tariffs have been threatened," Hackett Associates Founder Ben Hackett said. "Consumer prices will no doubt start to rise."
Ports covered by Global Port Tracker handled 1.89 million Twenty-Foot Equivalent Units in August, the latest month for which after-the-fact numbers are available. That was down 0.6 percent from July but up 3.4 percent year-over-year. A TEU is one 20-foot-long cargo container or its equivalent.
September was estimated at 1.84 million TEU, up 2.7 percent year-over-year. October is forecast at 1.87 million TEU, up 4.3 percent; November at 1.8 million TEU, up 2.3 percent, and December at 1.79 million TEU, up 4 percent. January 2019 is forecast at 1.77 million TEU, up 0.7 percent over January 2018, and February is forecast at 1.63 million TEU, down 3.5 percent year-over-year.
Until this year, the record for the number of containers imported during a single month was 1.83 million TEU, set in August 2017. But that record was broken this June, when 1.85 million TEU were imported, and again in July, with 1.9 million TEU. October will be the fifth month in a row to top last year's peak.
While cargo numbers do not correlate directly with sales, the imports mirror this year's strong retail sales. NRF forecast last week that 2018 holiday season retail sales – excluding automobiles, restaurants and gasoline stations – will increase between 4.3 percent and 4.8 percent over last year. Retail sales for all of 2018 are forecast to be up at least 4.5 percent over 2017.
The first half of 2018 totaled 10.3 million TEU, an increase of 5.1 percent over the first half of 2017. The total for 2018 is expected to reach 21.4 million TEU, an increase of 4.4 percent over last year's record 20.5 million TEU.
Click here to access the entire release from the National Retail Federation.