"The LEI continues on a broad-based upward trend, suggesting gradually strengthening economic conditions through early 2014," said Ataman Ozyildirim, Economist at The Conference Board. "Improving labor markets and new orders in manufacturing, combined with strong financial indicators, drove November's gain. However, consumers' outlook for the economy and the drop in housing permits continue to pose risks in 2014."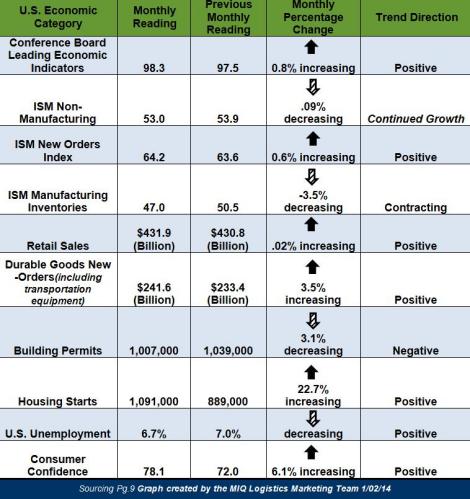 Institute for Supply Management (ISM) Manufacturing Report on Business
Economic activity in the manufacturing sector continued to expand in December
50 represents the dividing line between expansion and contraction for the index of the below chart; which covers the Purchasing Managers Index (PMI) and new orders.
The PMI registered 57.0% in December, which was the second highest reading in 2013; the previous highest reading occured in November, when the PMI was 57.3%.
New Orders increased in December by 0.6%; which raised the reading to 64.2%.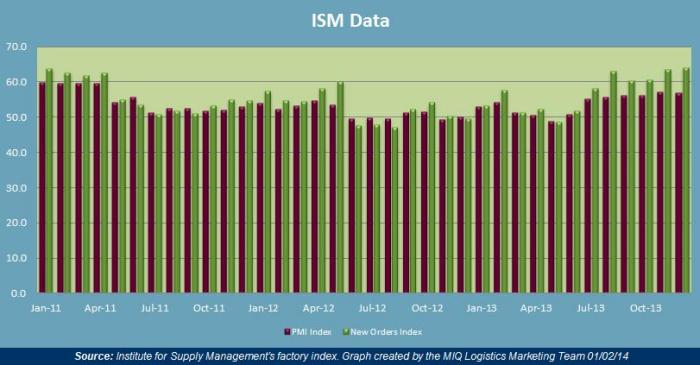 Expanding Manufacturing Industries
Furniture & Related Products
Plastics & Rubber Products
Textile Mills
Apparel, Leather & Allied Products
Computer & Electronic Products
Paper Products
Transportation Equipment
Primary Metals
Fabricated Metal Products
Wood Products
Printing & Related Support Activities
Food, Beverage & Tobacco Products
Miscellaneous Manufacturing
Contracting Manufacturing Industries
Nonmetallic Mineral Products
Machinery
Chemical Products
Electrical Equipment, Appliances & Components
---
Transportation Market Update
Truckload Index Category
Monthly Reading
Previous Monthly Reading
Trend Direction
American Trucking Associations (SA) seasonally adjusted For-Hire Truck Tonnage
128.5
125.1
+ 2.7% Increasing
Cass Freight Index Report Shipments
1.037
1.105
– 0.7% Decreasing
Cass Freight Index Report Expenditures
2.387
2.524
– 5.4% Decreasing
Freight Transportation Services Index (TSI)
116.5
114.3
+ 1.2 Increasing
Trucking Employment
+ 100 Jobs
+ 8400 Jobs
Positive
NAFTA Statistics for August
59.5% of the $103.1 Billion of U.S. – NAFTA trade was transported by truck in October; this is up 3.1% YOY
"Tonnage snapped back in November, which fits with several other economic indicators," said ATA Chief Economist Bob Costello. "Assuming that December isn't weak, tonnage growth this year will be more than twice the gain in 2012."  "Still, truck tonnage continues to be supported by fast growing sectors of the economy that generate heavy freight loads, like residential construction, fracking for oil and natural gas, and auto production," Costello said.
---
GLOBAL MARKET UPDATE
Recent Updates from National Retail Federation and Hackett Associates
U.S. ports followed by Global Port Tracker handled 1.37 million TEUs in November, which was up 6.5% YOY from November 2012.
While December's imported final TEU numbers are not visible yet; they were originally estimated at 1.35 million TEU which would be up 5% YOY for 2012.  If 1.35 million holds accurate, then 2013 will have come in at 16.3 million TEUs imported for the entire year.
"The new year looks to be stronger than the outgoing one, with better-than-expected GDP figures, lower unemployment rates and continued low inflation," Hackett Associates Founder Ben Hackett said.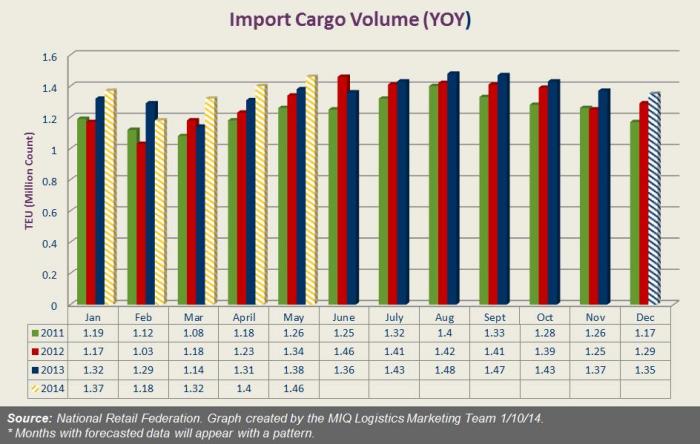 Transpacific Eastbound
*Note: The ocean carriers have announced their next round of GRI's and some carriers have implemented a PSS (Peak Season Surcharge). Below are the PSS levels that were announced but the carriers have mitigates these levels.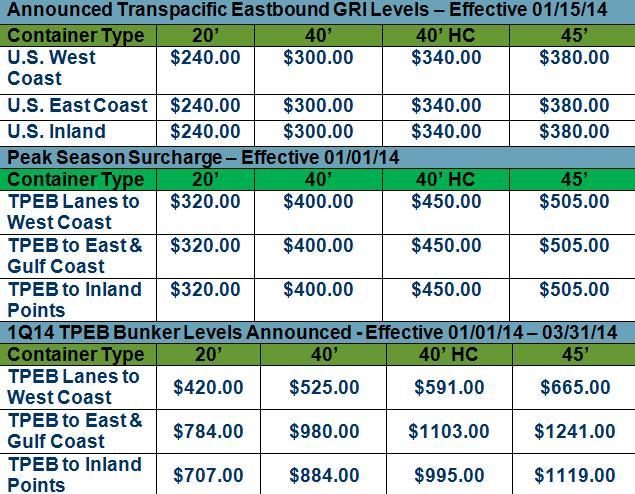 2014: Chinese New Year Begins January 31st.
The industry is experiencing an artificial peak on U.S. import cargo volumes prior to the Chinese New Year, which is what is driving the above GRI and PSS level announcements.
---
SOURCES
Domestic & Global Economy
Truckload Capacity & Volumes
Global Market Update