Learn Industry news and MIQ information in the June Logistics Link.
MIQ Updates
Verified Gross Mass (VGM) Certification Effective July 1

On July 1, 2016, the new container weight verification rule will go into effect and will impact shippers from 171 countries due to the added requirements of necessary documentation. The International Maritime Organization (IMO) adopted this new requirement under the Safety of Life at Sea (SOLAS) Chapter VI, Part A, Regulation 2. Get more information here.

The MIQ Logistics 2016 Scholarship award winner was announced at the CSCMP San Francisco 2016 Gala on May 11, 2016. The winner of the scholarship, Kunal Shalia from UC Berkeley, was awarded $2,500 toward tuition and/or fees directly to their school and a 1-year student CSCMP membership. Learn more information here.

MAHINDRA RECOGNIZES MIQ LOGISTICS

MIQ Logistics is pleased to be recognized by Mahindra USA with two awards for outstanding service. The awards were given at the Mahindra Partners Award Banquet on May 24, 2016 in Houston, TX.
Industry News
"The U.S. LEI picked up sharply in April, with all components except consumer expectations contributing to the rebound from an essentially flat first quarter," said Ataman Ozyildirim, Director of Business Cycles and Growth Research at The Conference Board.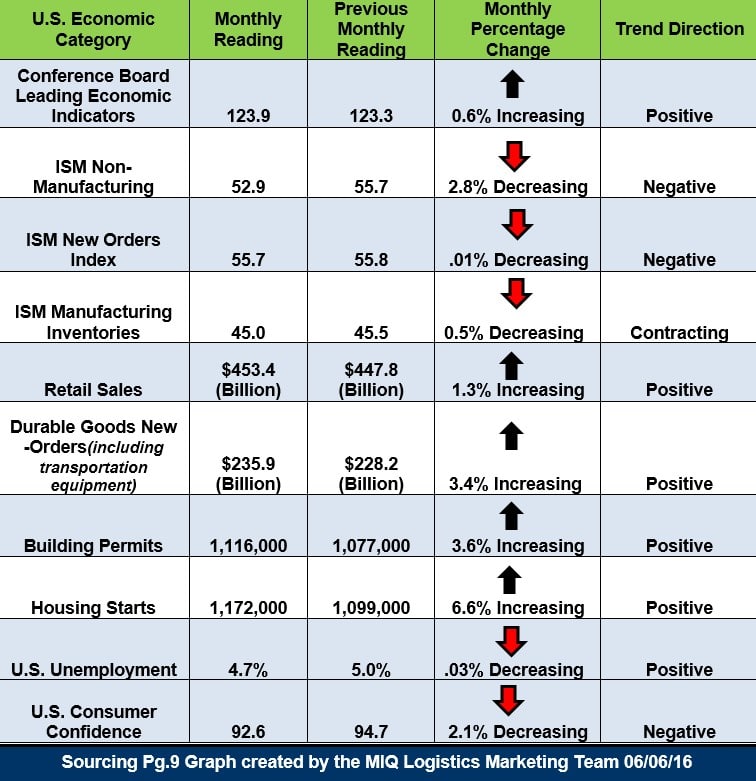 "After having an abnormally large seasonally adjusted gain in February, tonnage fell in April, in addition to the large drop in March," said ATA Chief Economist Bob Costello.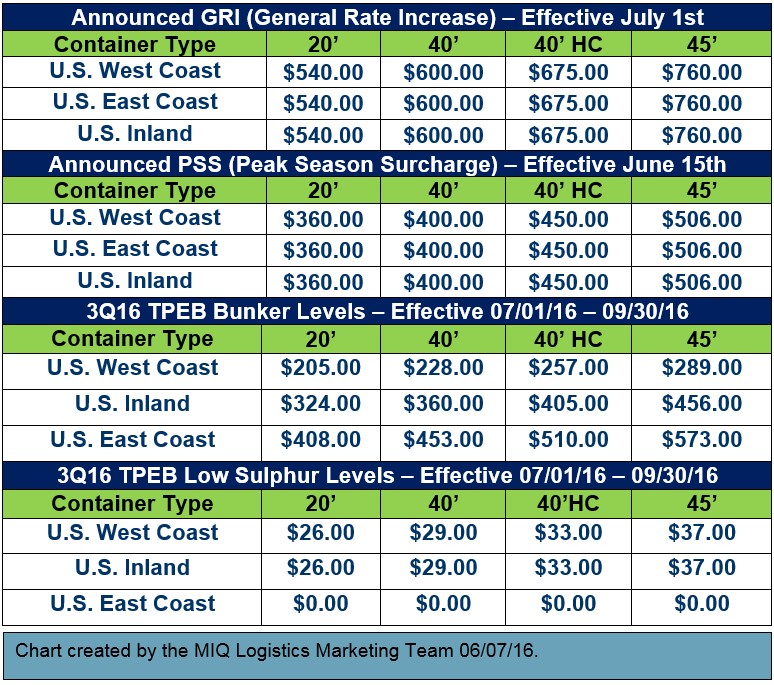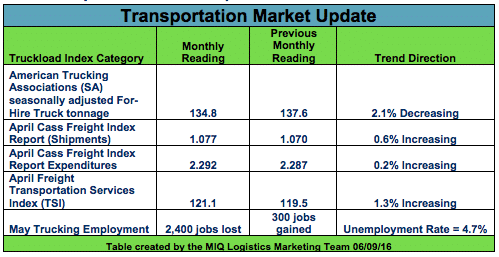 Logistics Services
Premium air and ocean international freight forwarding services to and from all major global markets
Project logistics delivering comprehensive end-to-end solutions for oversized and out-of-gauge shipments
TSA-compliant Air Cargo Screening
Customs Brokerage serviced by experienced compliance professionals
Order Management Program manages the efficient flow of goods and information between international origins and destinations.
Global Trade Management Services that assist informed sourcing decisions and reduce supply chain disruptions
Value-added services to support additional global logistics needs
Staff & Operations
Import & Export Logistics Professionals
Experienced Branch Manager and Licensed Customs Brokers
Team members fluent in English, Spanish, French, Mandarin and German
Regular Hours: 7:00am to 6:00pm; Monday through Friday
Technology
Global track and trace capabilities by shipment or container, and sailing schedules
PowerView provides end-to-end supply chain visibility
Events