Regulatory Updates:
President Biden signed the bipartisan Ocean Reform Act on June 16th, 2022, it is the first significant revision to maritime legislation since the Shipping Act of 1984 and comes among ocean shipping supply chain issues during the pandemic. The bill addresses the high detention and demurrage (late fees) charged by the ocean carriers and terminals which are paid by importers and exporters. Read more
On the 10th of June President Joe Biden met with the International Longshore and Warehouse Union (ILWU) and the Pacific Maritime Association (PMA) in San Pedro, California. Several issues, including supply chain congestion were discussed amongst the parties to reach a collective bargaining agreement that is fair to both parties.  Read more
As required prior to implementation of the Uyghur Forced Labor Prevention Act (UFLPA) on June 21st, 2022, CBP has issued operational guidance to assist importers in complying with the act. Read more  
As early as next week Congress will schedule to vote on the Ocean Shipping Reform Act of 2022. With support from the Senate and House the bill is likely to be passed. Here is what you need to know. Read more  
Truck drivers unite in protest across South Korea slowing major ports and container depots. This strike comes at a time when the global supply chain struggles to recover from Russia's invasion and lockdowns in Chinese cities. Although not all the nations drivers are choosing to participate, the rallies threaten to slow the pace of South Korean exports of consumer goods if they continue for weeks, local media said.  Read more
Industry News:
WASHINGTON – Imports at the nation's major retail container ports should see near-record volume again this month as retailers work to meet still-strong consumer demand and also protect themselves against potential disruptions at West Coast ports, according to the monthly Global Port Tracker report released today by the National Retail Federation and Hackett Associates. Read more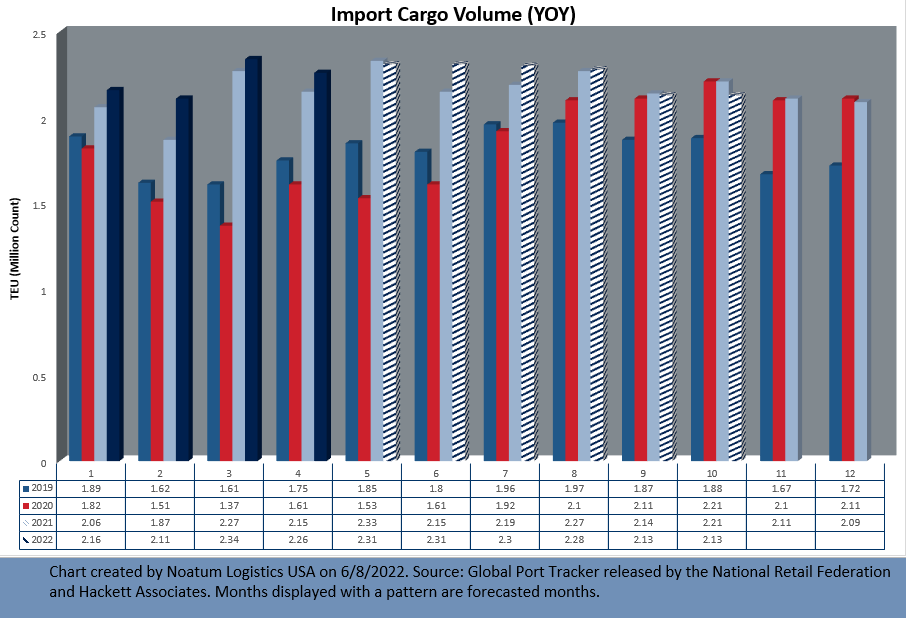 Announced levels for upcoming Transpacific Eastbound GRIs and PSSs from carriers can now be accessed anytime from our MIQ.com – Resources – Information and Tools page. Read more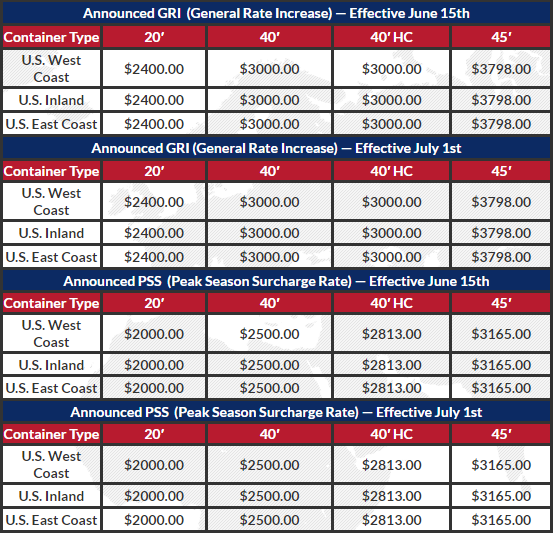 Careers at Noatum Logistics USA
It is an excellent time to consider a career at Noatum Logistics USA!  As a multi-faceted worldwide organization, Noatum Logistics USA offers a variety of opportunities for our employees around the globe. Our employees, a true competitive advantage, make a difference for our customers every day.
Noatum Logistics, a leading player in the global logistics industry, currently has openings in the following U.S. locations: Buffalo, NY, Chicago, IL, Houston, TX, Jamaica, NY, Miami, FL, and Los Angeles, CA.  View our current openings here and apply today!