During the month of October 2019, Noatum Logistics (formerly MIQ Logistics) was involved in a number of events throughout the logistics industry. Read about industry updates, regulatory updates, a Noatum Logistics employee's essay, the furniture industry, and careers at Noatum Logistics in the October 2019 logistics link.
Regulatory Updates
On Monday, October 28, 2019, the United States Trade Representative (USTR) office released a new list of product exclusions to the Section 301 List 3 products currently subject to a 25% tariff in the Federal Register Notice 84 FR 57803. Read more.
On Sunday, October 20, 2019, the USTR office published the procedures for requesting the exclusion of particular products from the Section 301 List 4a tariffs against China. The procedures will be effective beginning Thursday, October 31, 2019. Read more.
On Friday, October 11, 2019, the United States Administration announced a Phase 1 interim deal with China. The Phase 1 deal with China will require China to purchase U.S. agricultural products and set a currency standard for the China renminbi. Read more.
On Wednesday, October 2, 2019, the USTR office issued a press release in response to a World Trade Organization (WTO) finding that $7.5 billion in subsidies provided to Airbus by the European Union (EU) have "seriously injured" the United States (U.S.) aerospace industry. Read more.
On Friday, September 27, 2019, the USTR office released two notices of product exclusions to the Section 301 List 1 and 2 products currently subject to a 25% tariff. Read more.
Industry News
mports at the nation's major retail container ports are expected to hit their highest level of the year again next month, just before more tariffs take effect in December, according to the Global Port Tracker report released October 9 by the National Retail Federation and Hackett Associates. Read more.
Economic activity in the manufacturing sector contracted in September, and the overall economy grew for the 125th consecutive month, say the nation's supply executives in the latest Manufacturing ISM® Report On Business®. Read more.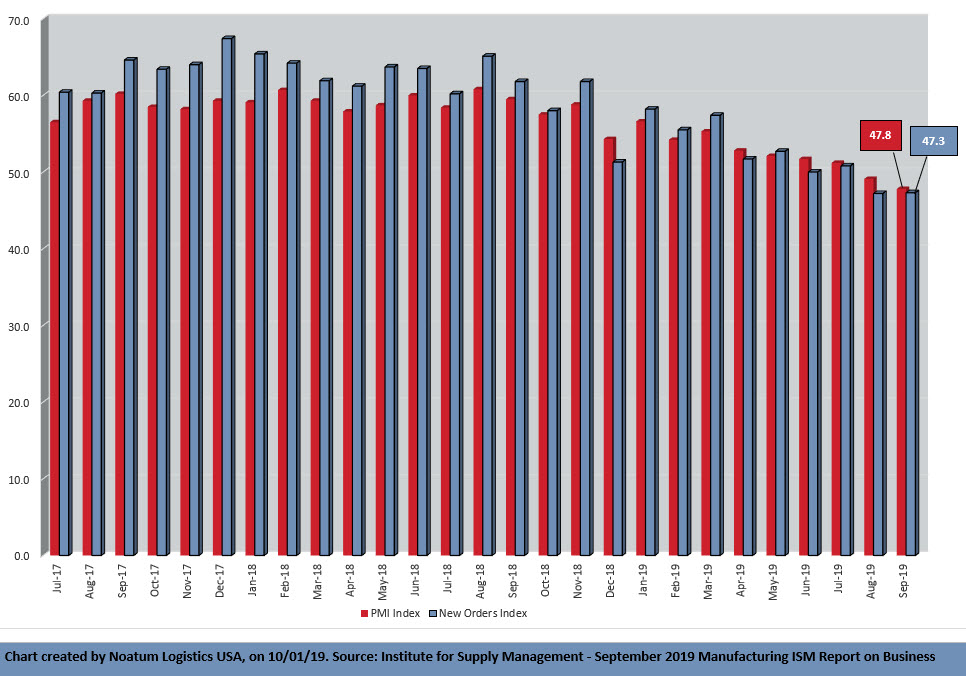 Announced levels for upcoming Transpacific Eastbound GRIs, PSSs and LSFs from carriers can now be accessed anytime from our MIQ.com – Resources – Information and Tools page.
In the Spotlight
Congratulations to Nate Zachary, Business Development Manager, Houston, who was selected as the winner of the 2019 Young Professionals Essay Contest sponsored by Trimble Transportation and the Council of Supply Chain Management Professionals (CSCMP). Nate was recognized at the Future Leaders Reception at the CSCMP EDGE Conference in September. The Council of Supply Chain Management Professionals (CSCMP) has been focusing their efforts on educating and connecting the world's supply chain leaders since 1963.
Candidates were asked to compose an essay answering the question, "What is the biggest challenge currently affecting supply chain management and logistics, and how do you propose to solve it?" The responses were evaluated based on the candidate's skills to provide creative insights and original solutions, as well as their aptitude to add genuine value to the supply chain.
Take a moment to read Nate's entry here.
Shared Challenges in the Furniture Market
Noatum Logistics recognizes that the furniture industry is unique. No single furniture manufacturer, importer or retailer is alike, yet most share one thing in common: logistics challenges. Transportation and production delays tie up delivery schedules for even the most efficient companies. Global reach capabilities fall short for furniture businesses of all sizes. Noatum Logistics USA handles these types of challenges routinely — especially in a market where 30 years of combined experience servicing the furniture industry has earned the company a reputation for results.
Noatum Logistics offers a host of logistics services throughout the world, with offices in Asia, Europe, the Middle East, North Africa, North America and South America. It has become a leading partner for in-country expertise and origin services across China, India and Vietnam. Regardless of where furniture is made, supplied or sold, Noatum Logistics is there with the services you need.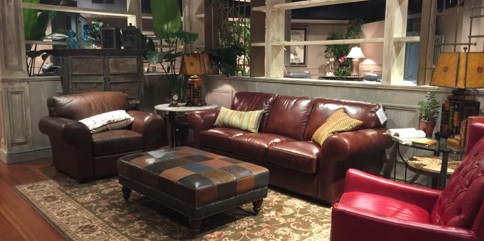 Kitting and packing
Value-added warehousing
Scheduling that syncs with PO dates
Tracking against purchase order numbers from the point of booking through delivery
Tracking of production dates with vendors
Transloading: transferring shipments from one mode of transportation to another
NVOCC
FCL and LCL ocean
Air freight for expedited needs
Booking and scheduling management
Customs brokerage
Global trade management
Systems integration and EDI connectivity
EDI invoicing
Reporting
On-line tracking and tracing tools
Management of total landed costs
For more information regarding services focused on the furniture industry, contact your local Noatum Logistics USA (formerly MIQ Logistics) representative.
Careers at Noatum Logistics USA
It is an excellent time to consider a career at Noatum Logistics! As part of this extensive worldwide organization, Noatum Logistics USA (formerly MIQ Logistics) offers a variety of opportunities for our employees around the globe. As our true sustainable competitive advantage, our employees make a difference for our customers every day.
Noatum Logistics, a leading player in the global logistics industry, currently has openings in the following locations: Chicago, IL, Los Angeles (Gardena), CA, New York (Jamaica), NY, and Washington, DC (Ashburn, VA). View our current openings here and apply today!