During the month of July 2019, Noatum Logistics (MIQ) was involved in a number of events throughout the logistics industry. Read industry updates, regulatory updates, services offered, and careers at Noatum Logistics (MIQ) in the July 2019 logistics link.
Noatum Logistics (MIQ) in the News
As you know, Noatum Logistics completed the acquisition of MIQ Logistics on April 3, 2019. Since that time, we have maintained two different brands: Noatum Logistics and MIQ Logistics, a company of Noatum Logistics. Now that our transition is essentially complete, we are pleased to announce the launch of our company as a single global brand: Noatum Logistics.
With the integration of these two organizations, we have fortified our position as a market leader in the management of international supply chains. With this consolidation, we expanded our portfolio of services and diversified our solutions for each of the industrial sectors in order to add maximum value for our customers. Our expanded geographic structure and the synergies that both companies provide allow us to offer flexible, intelligent, complex and adaptive responses around the world.
Over the upcoming weeks, you will see some minor correspondence changes. Our website and invoices will reflect our new name, Noatum Logistics. Additionally, our email addresses will be changing to reflect the Noatum name. Any emails sent to an MIQ address, however, will be forwarded to our new email addresses for an extended period of time. We will continue to keep you up to date as we move through these changes.
What will not change is our steadfast commitment to service excellence and improving our customers' bottom-line performance. If you have any questions, please don't hesitate to ask.
Regulatory Updates
On Tuesday, July 9, 2019, the United States Trade Representative (USTR) office released a sixth Notice of Product Exclusions to Section 301 List 1 products currently subject to a 25% tariff. Read more.
On Saturday, June 29, 2019, the  White House announced that the fourth tranche of tariffs on $300 billion worth of imports from China would not be implemented as China and the United States continue to pursue a fair trade deal. Read more.
Industry News
Imports at the nation's major retail container ports will remain at high levels this summer but are expected to grow only modestly compared with last year's rush to bring merchandise into the country ahead of scheduled tariff increases, according to the monthly Global Port Tracker report released July 10 by the National Retail Federation and Hackett Associates. Read more.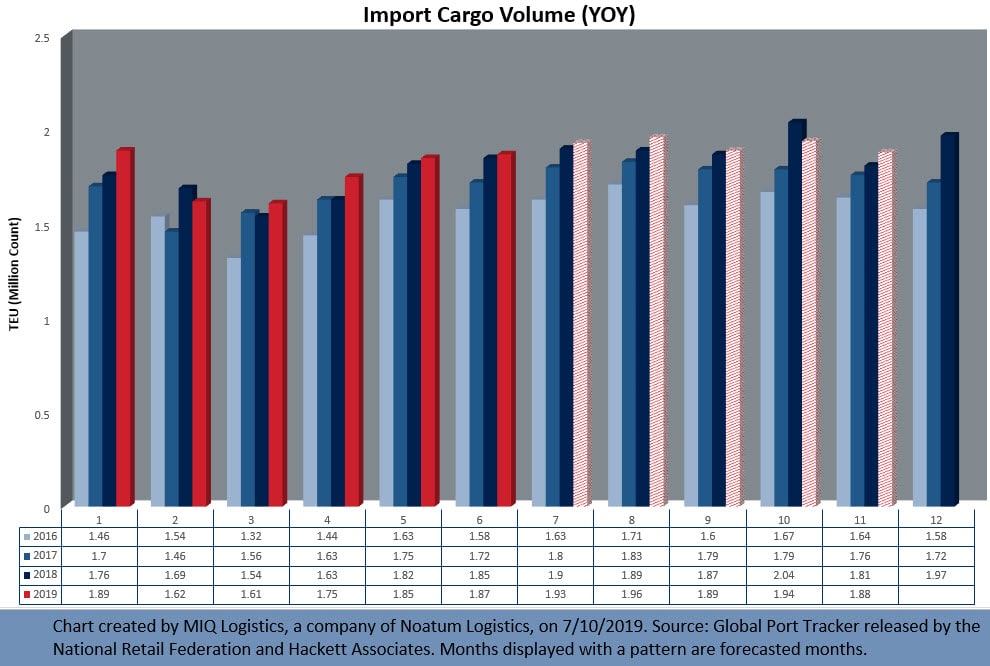 Economic activity in the manufacturing sector expanded in June, and the overall economy grew for the 122nd consecutive month, say the nation's supply executives in the latest Manufacturing ISM® Report On Business®. Read more.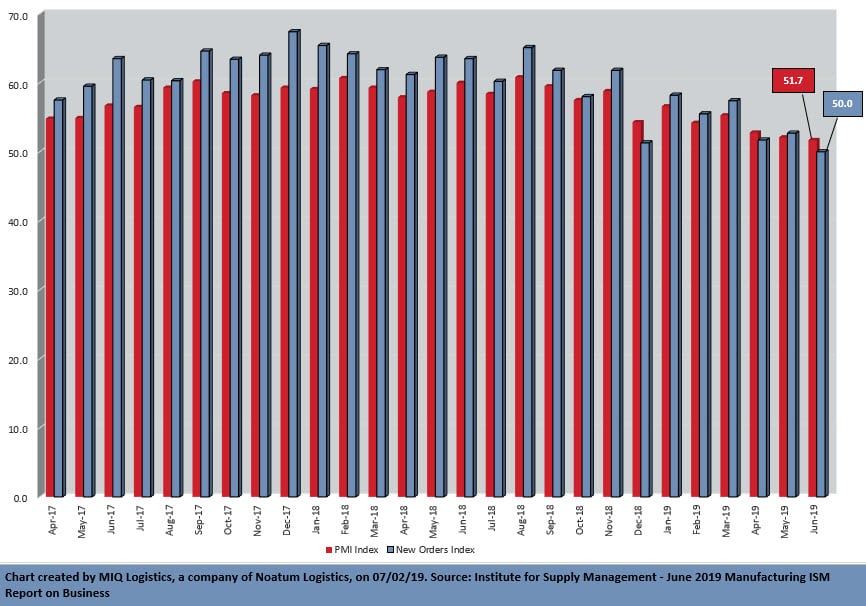 Announced levels for upcoming Transpacific Eastbound GRIs, PSS's and LSFs from carriers can now be accessed anytime from our MIQ.com – Resources – Information and Tools page.
Services
11501 Outlook Street, Suite 500
Overland Park, KS 66211
(913) 696-7100 Phone
(913) 696-7501 Fax
contact_us@miq.com
Services Provided in Kansas City
Premium domestic and international air and ocean freight forwarding services to and from all major global markets
Project logistics delivering comprehensive end-to-end solutions for oversized and out-of-gauge shipments
Customs brokerage serviced by experienced compliance professionals
Order management program managing the efficient flow of goods and information between international origins and destinations
Global trade management services that assist with informed sourcing decisions and reducing supply chain disruptions
Value-added services to support additional global logistics needs

Account management program
Logistics engineering comprising routing/network analysis and solution design
Origin services including vendor consolidation, kitting and labeling
Destination distribution and DC bypass
Automotive
Industrial Manufacturing
Retail and Apparel
Import and export logistics professionals
Experienced supply chain professionals in sales and branch management positions
Licensed Customs Broker
Team members fluent in Russian, Latvian, and Spanish
Regular Hours: 8:00am to 6:00pm CT; Monday through Friday
Global track and trace capabilities by shipment or container and sailing schedules
PowerView provides end-to-end supply chain visibility and purchase order management
Careers at Noatum Logistics (MIQ)
It is an excellent time to consider a career at Noatum Logistics (MIQ)!
As many of you know, MIQ Logistics recently joined the Noatum Logistics organization, further enhancing our capabilities and services to benefit our customers while offering a host of opportunities for our employees around the world. Our core purpose, making global commerce work by connecting people, places and information, underscores our integral role in today's global marketplace. With the resourcefulness of our customer-focused, results-oriented operations, we continue to be a leading player in the global logistics industry. As our true sustainable competitive advantage, our employees make a difference for our customers every day.
Noatum Logistics currently has openings in the following locations: Buffalo, NY; Chicago, IL; Overland Park, KS; New York, NY; San Francisco, CA. View our current openings here and apply today!