Welcome to the August 2014 Logistics Link, the MIQ Logistics monthly newsletter
MIQ LOGISTICS UPDATES


Global Trade magazine named MIQ Logistics one of America's Top 3PLs (third-party logistics providers) and one of the Top 10 providers in its Most Versatile category. The magazine will publish its complete list of leading 3PLs in the September/October issue.


MIQ Logistics will be attending and exhibiting at the Breakbulk Americas 2014 forum September 29 – October 2, 2014 in Houston, TX. Stop by booth 1772 to learn about our experience with project logistics. Let us know if you are attending as well!
---
LOGISTICS INDUSTRY TRENDS
U.S. Economic Update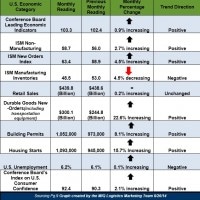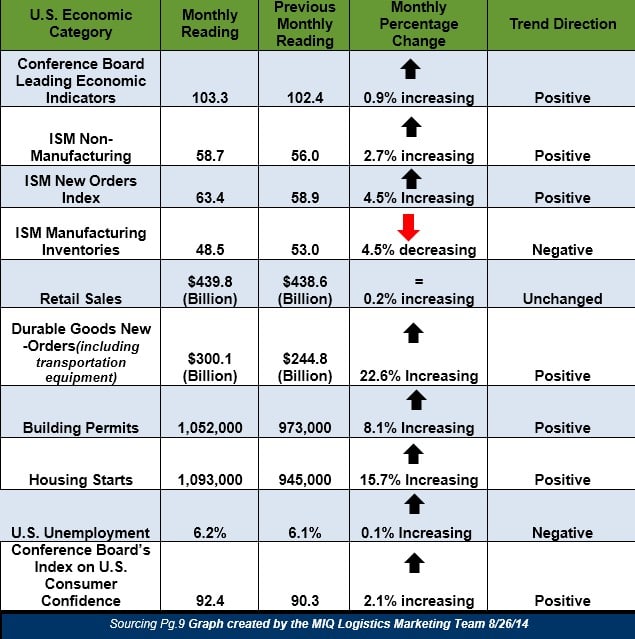 The Conference Board: "Consumer confidence increased for the fourth consecutive month as improving business conditions and robust job growth helped boost consumers' spirits. Looking ahead, consumers were marginally less optimistic about the short-term outlook compared to July, primarily due to concerns about their earnings. Overall, however, they remain quite positive about the short-term outlooks for the economy and labor market."
Institute for Supply Management (ISM) Manufacturing Report on Business: Economic activity in the manufacturing sector continued to climb in July for the 14th consecutive month.
Transportation Market Update
Global Market Update
U.S. Import Forecast Could Hit All-Time Record in August: The Global Port Tracker report released by the National Retail Federation and Hackett Associates says August is being forecasted as the highest U.S. import volume month on record (Global Port Tracker began tracking import volumes in the year 2000). U.S. ports followed by the report handled 1.48 million Twenty-Food Equivalent units in the month of June, and estimates for August, September, October, November and December can all be found below.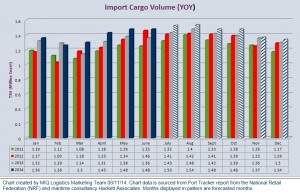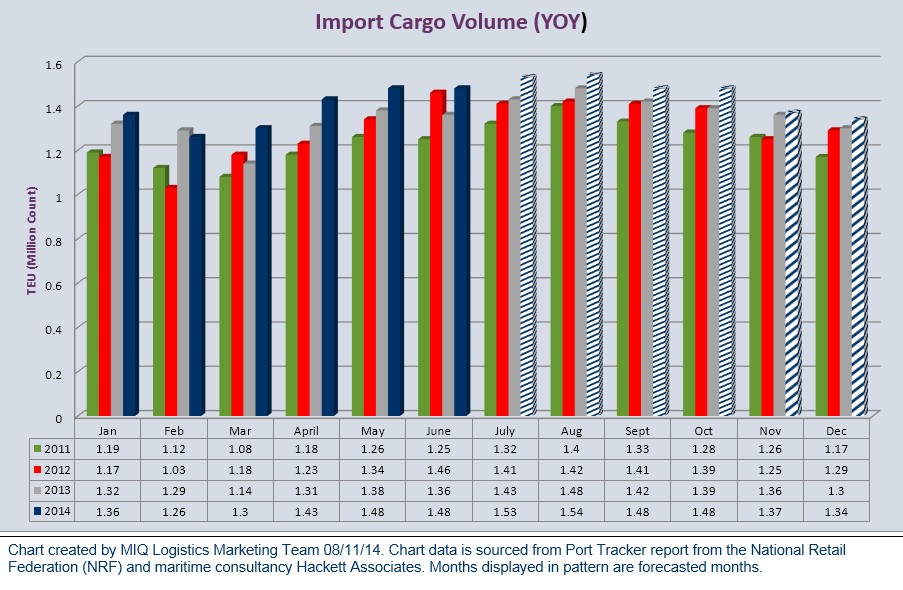 Transpacific Eastbound General Rate Increase (GRI) and Bunker Fuel Adjustments: The announced levels from the carriers are listed below.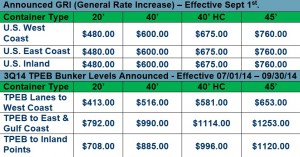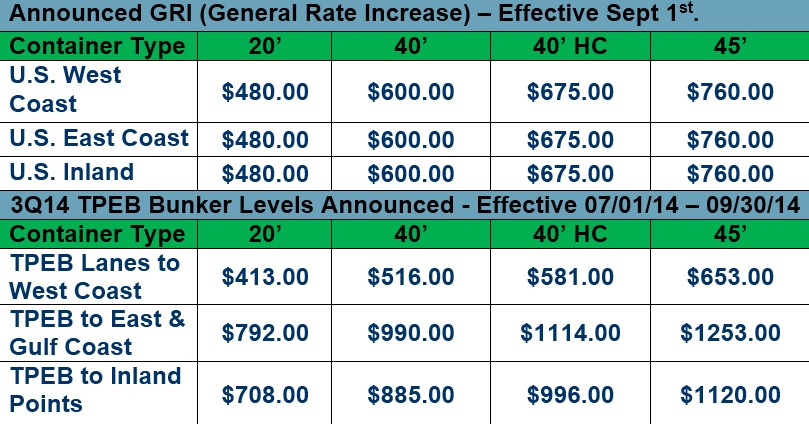 Global Regulations Update
---
SERVICE INFORMATION
Customer: A leading engineering, procurement and construction (EPC) contractor that provides solutions to the oil, gas and construction industries in Iraq.
Challenge: The customer needed help moving over-size products from the United States to a petro-chemical plant project in Northern Iraq.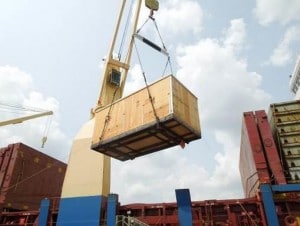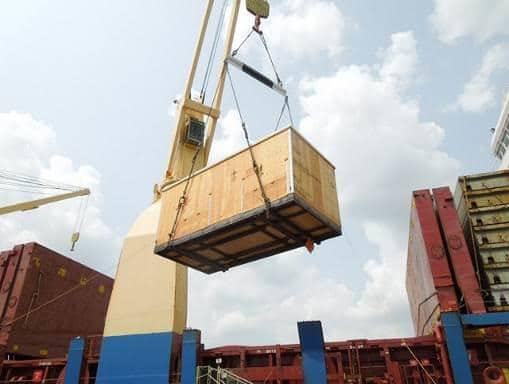 Engineering: MIQ Logistics worked with our Middle East global-network partner to engineer an end-to-end solution. The proposal leveraged the Project Logistics expertise of MIQ Logistics, our partner's destination capabilities, and a creative pricing structure.
Execution: The team expertly procured transportation and coordinated shipment activities with all parties involved, including the supplier, customer, ocean vessel operator, packer, surveyor and stevedore.
Result: The shipment moved safely, securely and consistently within the construction timeline. MIQ Logistics and our Middle East global-network partner will continue to move cargo for subsequent phases of the project.
Read the full case study here.
---
EVENTS AND UPDATES
Breakbulk Americas 2014: 9/29-10/02/14, Houston, TX, Booth 1772


Retail Supply Chain Conference 2015 (RILA): 2/22 – 2/25/15, Orlando, FL, Booth 233