Welcome to the February 2015 Logistics Link, the MIQ Logistics monthly newsletter.
MIQ LOGISTICS UPDATES
John Carr, the President & CEO of MIQ Logistics, will be speaking at the 3PL Summit & Chief Supply Chain Officer Forum in Chicago, IL, June 16-18, 2015. Read more
---
LOGISTICS INDUSTRY TRENDS
The Conference Board reported that the U.S. Leading Economic Index increased again in January, but its pace of growth has moderated in recent months. While the LEI suggests a positive short-term outlook in 2015, the lack of strong momentum in residential construction and weak outlook for new orders poses a downside risk for the U.S. economy.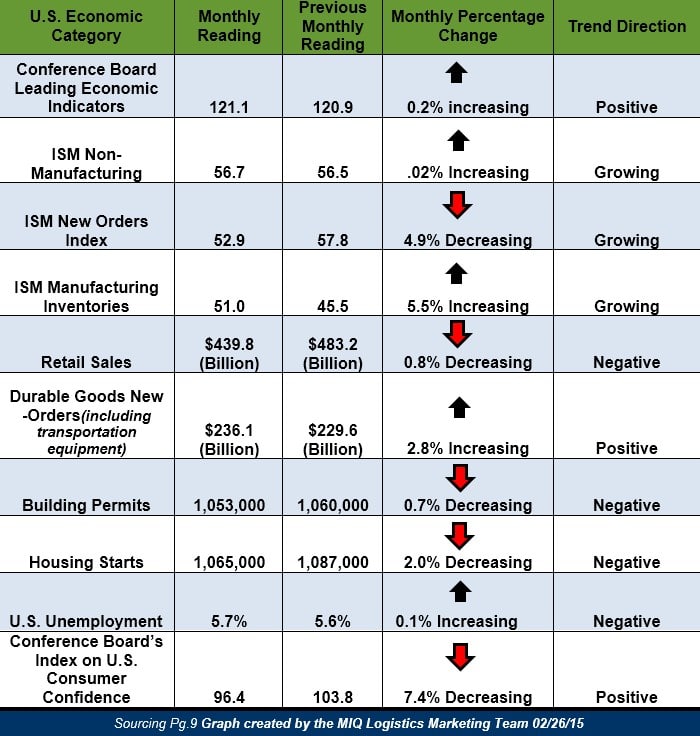 ---
TRANSPORTATION MARKET UPDATE
Freight Transportation Services Index unchanged in December from November, failing to rise after five consecutive months of increases.
Cass Freight Index Report states that North American shipment volumes and total spending on freight both dropped in January. The labor and capacity woes at West Coast ports had an impact on shipment volume late in December, which is reflected in January indexes.
ATA Truck Tonnage Index increased 1.2% in January, following a revised gain of 0.1% during the previous month. Compared with January 2014, the SA index increased 6.6%, which was the largest year-over-year gain in over a year.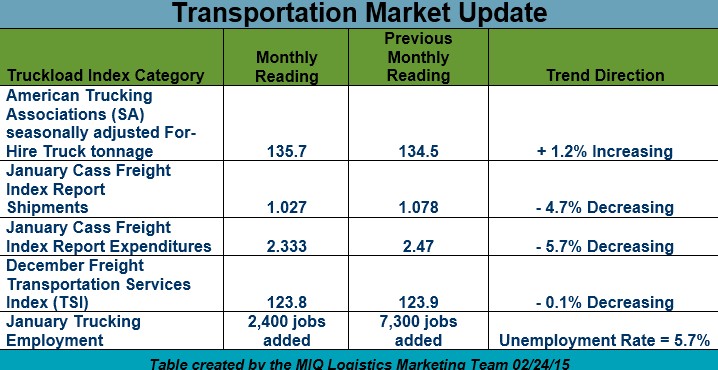 ---
GLOBAL MARKET UPDATE
---
SERVICE INFORMATION
MIQ Logistics provides end-to-end supply chain solutions throughout Europe that include comprehensive and reliable global, transportation, and distribution  services. Our focus is on creating value for customers.
Our fully integrated International Supply Chain service offering is designed to deliver value by combining  the MIQ Logistics service portfolio to create an end-to-end solution. We link your origin supply chain with your destination markets' ever-changing logistics needs.
Our expertise in EU customs compliance helps customers avoid the fines and penalties associated with imports. Our observance of the Customs Freight Simplification Procedure (CFSP) eliminates port delays and defers duties and VAT, while our adherence to VAT Shift eliminates import VAT on goods trans-shipped within the EU.  In addition, we earned the highest Authorized Economic Operator (AEO) certification by HM Revenue and Customs.
---
EVENTS AND UPDATES
PAST EVENTS:
MIQ attended the Retail

Supply

Chain Conference 2015 (

RILA

) 2/22 – 2/25/15.
UPCOMING EVENTS: