During the month of November 2017, MIQ Logistics was involved in a number of events throughout the logistics industry. Read MIQ in the news, industry updates, services offered by MIQ, and events that will be taking place in the November 2017 logistics link.

MIQ Updates
MIQ Logistics plans to enhance its global logistics operations after the sale of its North America domestic transportation business unit. The company will use the proceeds to improve end-to-end logistics capabilities, expand its global footprint, enrich its global service portfolio and continue to invest in leading technology — all to serve the surging global demands of customers. Read more.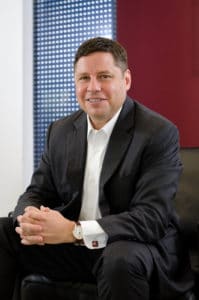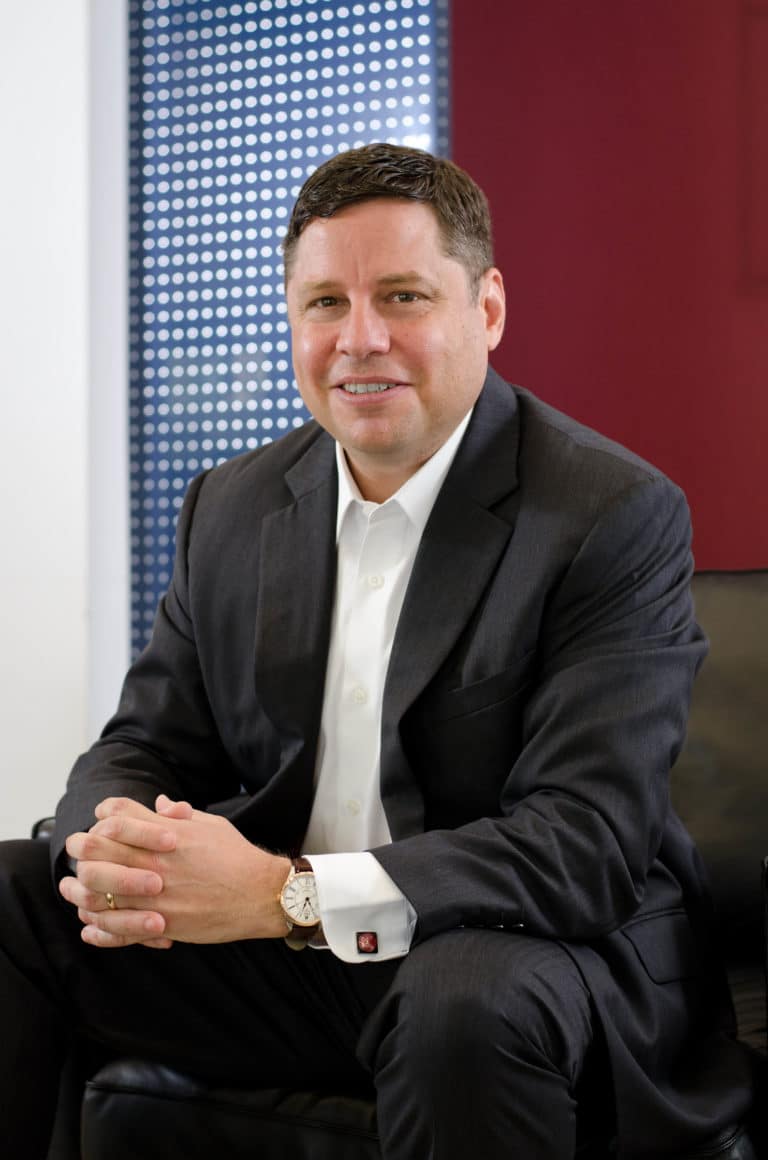 MIQ Logistics has named Chris Capodanno to the newly-created position of Vice President, Global Business Development.  He will lead the company's global sales strategy and initiatives, with oversight of all global business development activities around the world. Read more.
Regulatory Updates
US CBP issued new requirements governing the movement of cargo in-bond from the Port of Discharge to an Inland Port for Customs Clearance or Export.   These new requirements are effective November 27, 2017.  Full enforcement of the new rules will begin February 24, 2018. Read more.
The Fixing America's Surface Transportation Act (FAST Act, Pub. L. 114-94) amended section 13031 of the Consolidated Omnibus Budget Reconciliation Act (COBRA) of 1985 (19 U.S.C. 58c) by requiring certain customs COBRA user fees and corresponding limitations to be adjusted by the Secretary of the Treasury ("Secretary") to reflect certain increases in inflation. Read more.
The United States International Trade Commission (USITC) on October 31 announced the remedy recommendations that it will forward to the President in its global safeguard investigation regarding imports of crystalline silicon photovoltaic cells (whether or not partially or fully assembled into other products). Read more.
Global Industry Updates
Transpacific Eastbound General Rate Increase (GRI) and Peak Season Surcharge (PSS), and Bunker Fuel Adjustments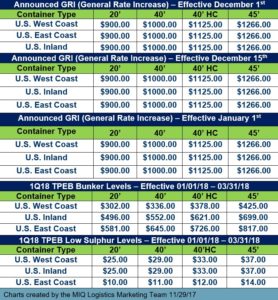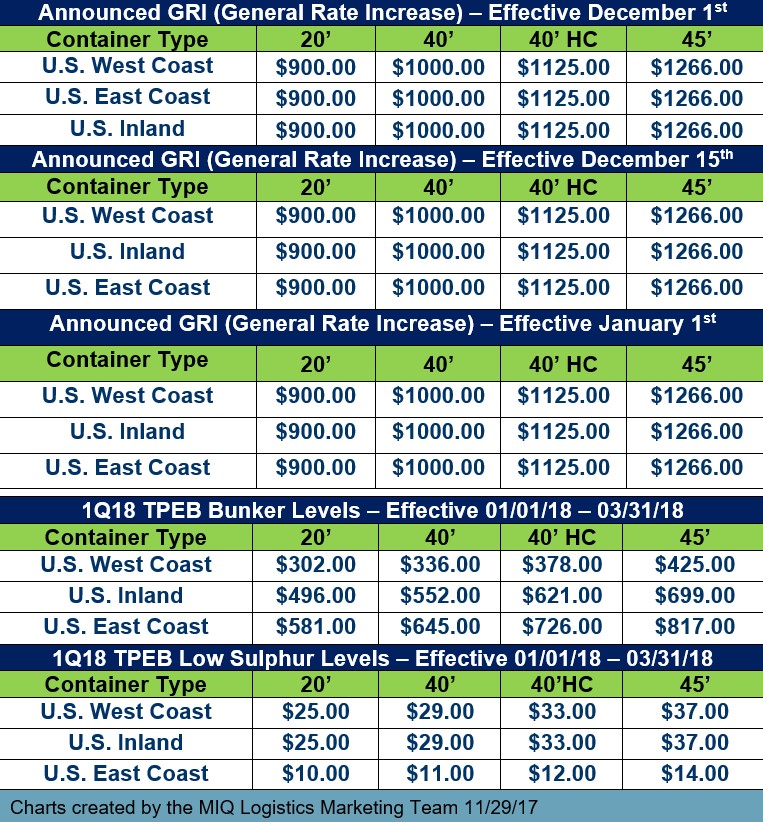 U.S. Import Update: After months of record-setting volume as retailers stocked up for a busy holiday season, imports at the nation's major container ports should be essentially flat this month compared with the same time last year, according to the monthly Global Port Tracker report released today by the National Retail Federation and Hackett Associates. Read more.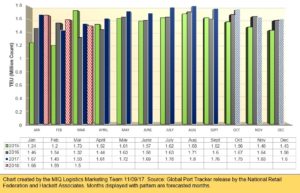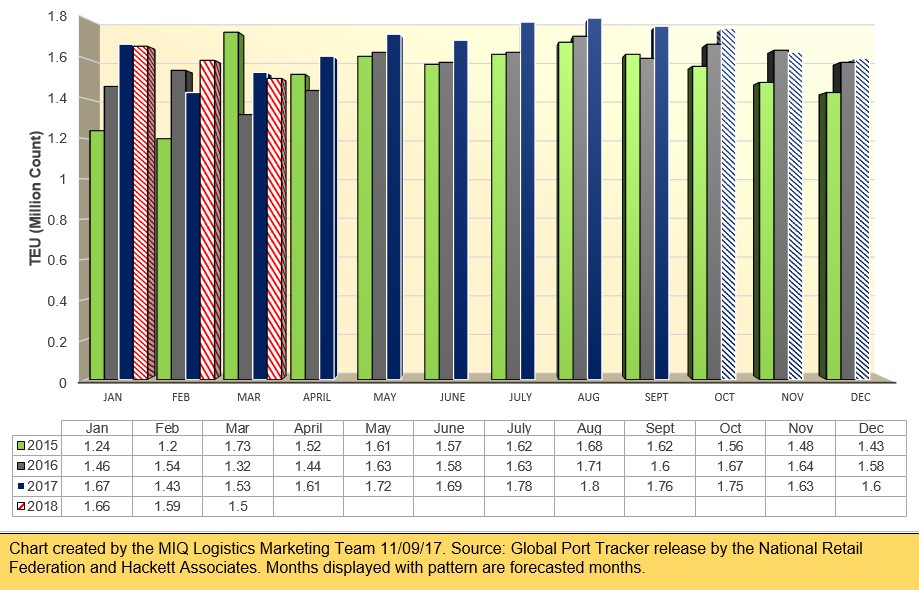 "The US LEI increased sharply in October, as the impact of the hurricanes dissipated," said Ataman Ozyildirim, Director of Business Cycles and Growth Research at The Conference Board. Read more.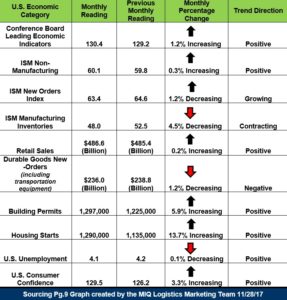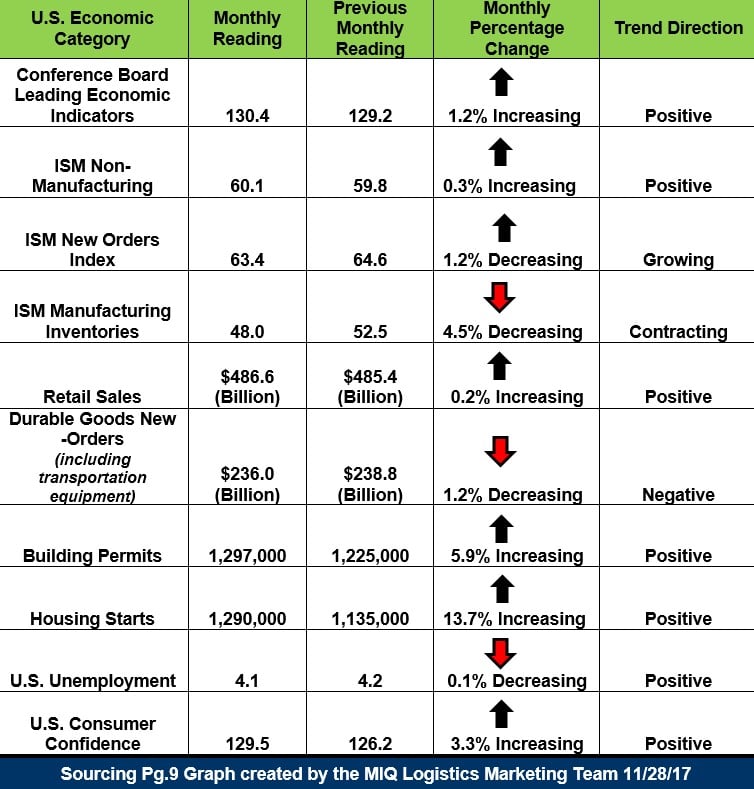 Services
If you have shipments that originate across Europe, the Europe Control Tower team gathers and consolidates data from vendors, manufacturers and carriers to monitor and manage customer supply chains, distributing updates in a consistent format. We detect issues, risks and pitfalls at the earliest stage, which means that correcting action can be initiated and product flows maintained at optimum performance.
The heart of our control tower is the supply chain and logistics information hub that is supported and maintained by a dedicated team in our Netherlands office, located strategically by Schiphol airport. Status updates are collected continuously from suppliers, MIQ consolidation hubs and carriers to provide the Control Tower team with a clear picture on the actual status of purchase orders, product in stock and shipments that are in preparation or in transit.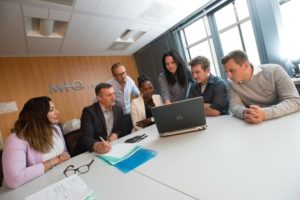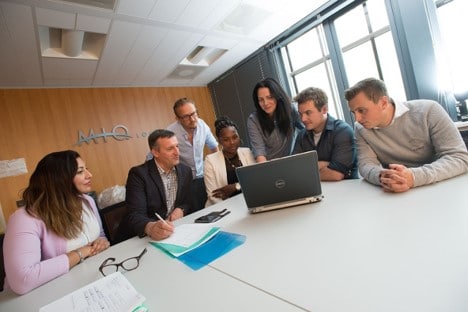 Services Provided in Amsterdam
Gateway to Benelux and mainland European countries
Air Import / Export
Ocean Import / Export
EU Road Transportation Import/Export
Customs Brokerage
Access to bonded and value-added warehouse partner solutions
Events
Retail Supply Chain Conference 2018:
Booth #709, Orlando, FL: February 25-28, 2018