During the month of September 2017, MIQ Logistics was involved in a number of events throughout the logistics industry. Read MIQ in the news, industry updates, services offered by MIQ, and events that will be taking place in the September 2017 Logistics Link.
---
MIQ Updates
On September 28, 2017, the MIQ Logistics U.K. team and our customer (a leading global fashion brand) won the IBM Supply Chain Visibility Award at the Retail Week Supply Chain Awards 2017. This is the third consecutive year the MIQ Logistics U.K. team was nominated for the Retail Week Awards, and the second time they have won an award. Winners were selected at an awards ceremony at the Hilton Park Lane in London. Read more.
Paul Fitzpatrick was named the Chief legal Counsel for MIQ Logistics. Fitzpatrick will oversee the global logistics company's legal and compliance matters. Fitzpatrick is both a licensed customs broker and an attorney. Read more.
The Managing Director for MIQ Latin America – Juan Alonso Checa attended the Perumin 33rd Mining Convention. This biannual event began on Sept 18th and ran through September 22nd. The event featured the latest in mining technology and discussed solutions to many of the problems facing the Peruvian mining sector. Read more.
---
Supply Chain Alerts
On Tuesday, the U.S. Customs and Border Protection issued a trade notice which updated wood packaging material guidance for wood packing material destined to the U.S. This trade notice CSMS#17-000612, spotlights a date of November 1st for potential penalties that the responsible party for wood packaging material (WPM) imports may face should their wpm be found to be in violation. Read more.
MIQ Logistics is hearing reports of potential supply chain interruptions due to manufacturers in China cutting back production or closing down factories temporarily due to environmental protection measures taken by the Chinese Government. According to multiple sources, the Chinese Ministry of Environmental Protection (MEP) has increased enforcement of clean air and water laws in an effort to reduce pollution. Read more.
On September 19, 2017, a major earthquake registering a magnitude 7.1 struck Central Mexico. The earthquake resulted in numerous fatalities and heavy structural damage throughout the capital. MIQ Global Mexico experienced temporary telecommunication disruptions, however our onsite team resumed operations as of September 26th. Read more.
MIQ Logistics is happy to announce that all MIQ team members and their families are safe, and neither facility suffered any major damage to the facility or customer cargo. Here are the latest updates concerning our Miami offices, Miami area team members, and Miami area ports of entry. Read more.
---
Global Industry Updates
Transpacific Eastbound General Rate Increase (GRI) and Peak Season Surcharge (PSS), and Bunker Fuel Adjustments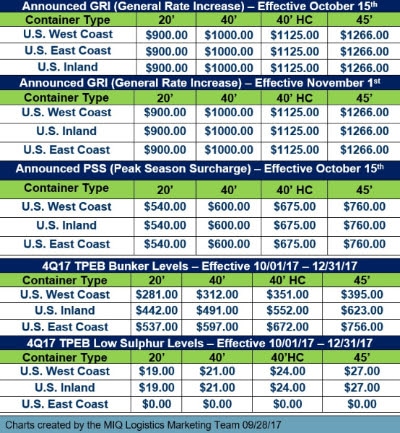 U.S. Import Update:
Growing imports at the nation's major retail container ports set an all-time monthly record this summer, and 2017 is expected to reach a new yearly record, according to the monthly Global Port Tracker report released today by the National Retail Federation and Hackett Associates.
Read more.
"The August gain is consistent with continuing growth in the U.S. economy for the second half of the year, which may even see a moderate pick up," said Ataman Ozyildirim, Director of Business Cycles and Growth Research at The Conference Board. Read more.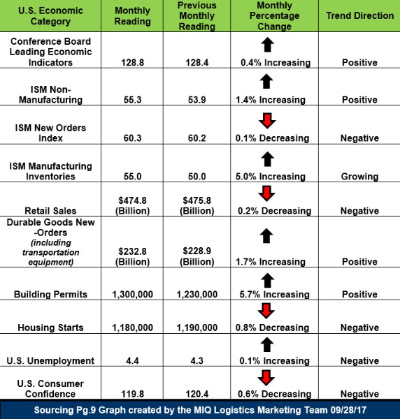 ---
Services

International Supply Chain is a fully integrated logistics-service offering designed to deliver value by combining services across MIQ Logistics to create a complete end-to-end solution.
We link your origin supply chain with your destination markets' ever-changing logistics needs, drawing on our service portfolio, in-country professionals, global network, and technologies.
The MIQ Logistics account management teams, along with state-of-the-art technologies, manage the entire solution through our Control-Tower contact structure.
Origin logistics facilities located in all key-sourcing regions provide specialized services ranging from purchase order management and consolidation, to sourcing support and assembly.
Our supply chain experts design, implement, and manage services in partnership with our customers. This model, and comprehensive approach, creates real value throughout the supply chain by reducing costs and improving efficiencies.
---
Events
MIQ
Logistics

Attends CSCMP Conference In Atlanta, GA

Kim Duca (Sr. Dir. of Sales – MIQ Global Houston), Mary Rooney – (Dir. of Marketing – MIQ Overland Park), and Kevin Riley (Business Dev. Mgr.) attended the CSCMP Conference in Atlanta, GA. The conference ran from September 24-26, 2017.