During the month of August 2019, Noatum Logistics (formerly MIQ Logistics) was involved in a number of events throughout the logistics industry. Read about industry updates, regulatory updates, a case study, events, and careers at Noatum Logistics in the August 2019 logistics link.
Regulatory Updates
On Thursday, August 29, 2019, the United States Trade Representative (USTR) issued a request for comments concerning Section 301 actions. Read more.
On Friday, August 23, 2019, the USTR office released the USTR Statement on Section 301 Tariff Action Regarding China in response to China's "unjustified tariffs targeting U.S. products." Read more.
The Federal Register Notice 84 FR 43304 published by the USTR Tuesday, August 20, 2019, announced the specifics related to the next steps for processing the new 10% tariffs on $300 billion of China products announced on August 13, 2019. Read more.
On Tuesday, August 13, 2019, the USTR posted a press release, USTR Announces Next Steps on Proposed 10 Percent Tariff on Imports from China. Read more.
On August 2, 2019, U.S. Customs and Border Protection (CBP) published a Federal Register Notice announcing that CBP is adjusting certain customs user fees pursuant to the Consolidated Omnibus Budget Reconciliation Act (COBRA) for Fiscal Year 2020 in accordance with the Fixing America's Surface Transportation Act (FAST Act) as implemented by CBP regulations. Read more.
On Friday, August 2, 2019, the USTR office released its first Notice of Product Exclusions to Section 301 List 3 products currently subject to a 25% tariff. This marks the eighth round of exclusions overall. Read more.
On Friday, July 26, 2019, the USTR office released its first Notice of Product Exclusions to Section 301 List 2 products currently subject to a 25% tariff. This marks the seventh round of exclusions overall. Read more.
On Thursday, August 1, 2019, the president of the United States announced that a tariff of 10 percent would be placed on $300 billion worth of imports from China as part of the U.S. response to China's unfair trade practices related to the forced transfer of American technologies and intellectual property. Read more.
Industry News
Hurricane Dorian continues to wreak havoc in the Bahamas today. The storm is expected to move toward the east coast of Florida and continue on a northward offshore path along the southeast coast of the United States during the next several days. Read more.
Imports at the nation's major retail container ports are expected to continue at near-record levels this month and the remainder of the year despite a new round of tariffs on goods from China, according to the monthly Global Port Tracker report released August 8, by the National Retail Federation and Hackett Associates. Read more.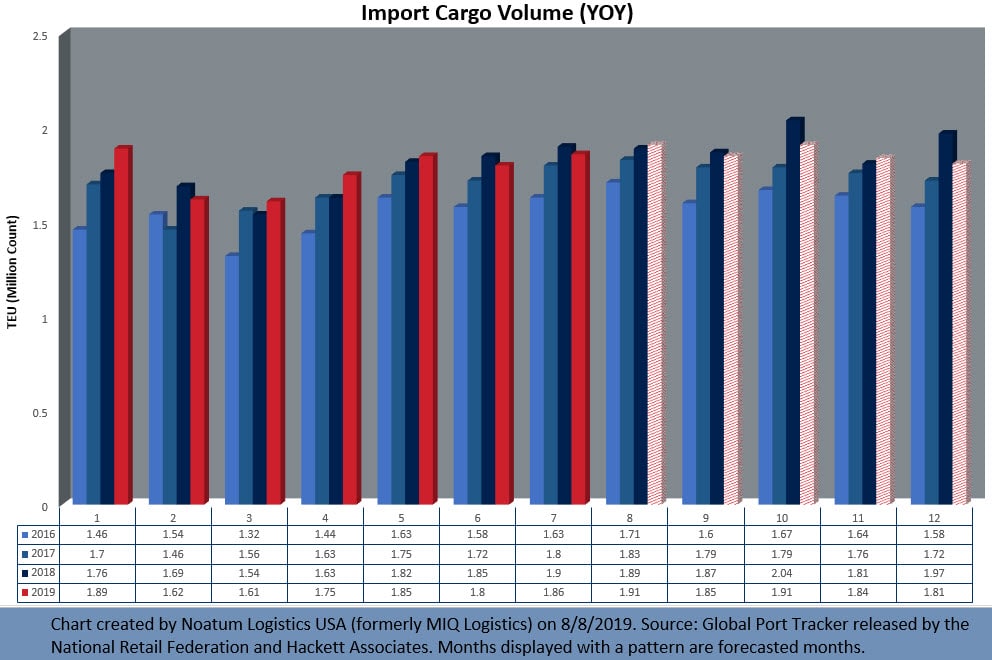 Economic activity in the manufacturing sector expanded in July, and the overall economy grew for the 123rd consecutive month, say the nation's supply executives in the latest Manufacturing ISM® Report On Business®. Read more.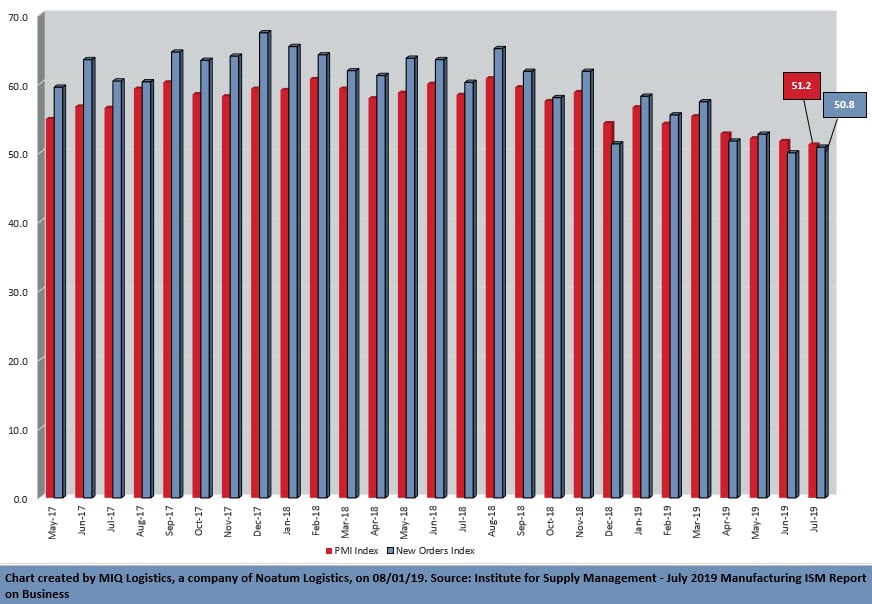 Announced levels for upcoming Transpacific Eastbound GRIs, PSSs and LSFs from carriers can now be accessed anytime from our MIQ.com – Resources – Information and Tools page.
Case Study – Iraq Gas Turbine Project Move
A leading engineering, procurement and construction (EPC) contractor that provides solutions to the oil, gas and construction industries in Iraq.
The customer needed help moving over-size products from the United States to a petrochemical plant project in Northern Iraq. The first phase of the project was comprised of 174 pieces of cargo totaling 325 metric tons, consisting of gas turbines, compressors and heavy equipment. 140 pieces of the freight were loaded in nine containers with an additional 34 loose break bulk pieces.
Noatum Logistics USA (formerly MIQ Logistics) worked with our Middle East global-network partner to engineer an end-to-end solution that included:
Manufacturer-to-port transportation services in the United States
International ocean freight to the port in Iraq
Customs clearance and documentation
Delivery to the final destination located more than 500 miles from the port
The proposed solution leveraged the project logistics expertise of Noatum Logistics USA, our partner's destination capabilities, and a creative pricing structure. The solution was based on the collection and analysis of detailed shipment handling, transportation and port requirements.
Noatum Logistics USA and its global network partner executed the solution in the following manner:
Organized the scheduling and purchase of the shipper-owned containers upon special request from the customer.
Conducted pre-shipment surveys and inspections prior to loading the gas turbines.
Managed detailed shipment handling requirements, customs clearance, permits, timelines and other needs.
Moved gas turbines and equipment from the U.S.-based supplier to Houston.
Oversaw packing and crating of the shipment and the vessel-loading process to ensure compliance with shipment handling requirements and safe transit.
Coordinated activities with all parties involved, including the supplier, customer, ocean vessel operator, packer, surveyor and stevedore.
Arranged transportation from the port in Umm Qasr, Iraq, to the shipment's final destination in Kirkuk, Iraq (over 500 miles).
Shipment moved safely, securely and consistently within the construction timeline.
Noatum Logistics USA and our Middle East global-network partner continued to move cargo for subsequent phases of the project.
Events
Breakbulk Americas: Booth #N1
Make plans to stop in and visit members of the Noatum Logistics team at Breakbulk Americas.
George R. Brown Convention Center
Houston, Texas, USA
October 8 – 10, 2019

Noatum Logistics representatives will also be attending the following events.
Contact your local Noatum Logistics representative to arrange a time to meet and catch up!
Supply Side West
Mandalay Bay
Las Vegas, Nevada, USA
October 15 – 19, 2019
Solar Power International
Salt Palace Convention Center
Salt Lake City, Utah, USA
September 23 – 26, 2019
Careers at Noatum Logistics USA
It is an excellent time to consider a career at Noatum Logistics!
MIQ Logistics recently joined the Noatum Logistics organization, further enhancing our services to benefit our customers while offering a variety of opportunities for our employees around the world. With the resourcefulness of our customer-focused, results-oriented operations, we continue to be a leading player in the global logistics industry. As our true sustainable competitive advantage, our employees make a difference for our customers every day.
Noatum Logistics currently has openings in the following locations: Atlanta, GA; Chicago, IL; New York, NY; San Francisco, CA. View our current openings here and apply today!