Welcome to the September 2014 Logistics Link, the MIQ Logistics monthly newsletter
MIQ LOGISTICS UPDATES


MIQ Logistics is attending and exhibiting at the Breakbulk Americas 2014 forum that is currently taking place through October 2, 2014 in Houston, TX. If you are at BreakBulk, stop by booth 1772 to learn about our experience with project logistics.
---
LOGISTICS INDUSTRY TRENDS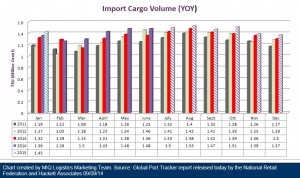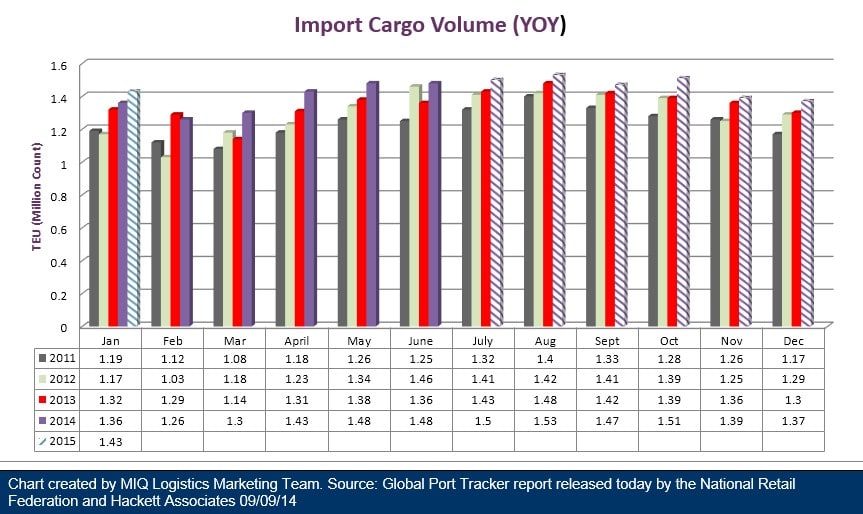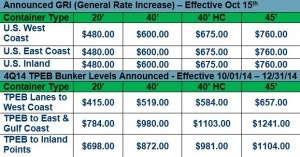 *note: Carriers are currently charging a Peak Season Surcharge; PSS levels vary by carrier and lane.
---
SERVICE INFORMATION

International Supply Chain is a fully integrated logistics-service offering designed to deliver value by combining services across MIQ Logistics to create a complete end-to-end solution. We link your origin supply chain with your destination markets' ever-changing logistics needs, drawing on our service portfolio, in-country professionals, global network, and technologies.
The MIQ Logistics account management teams, along with state-of-the-art technologies, manage the entire solution through our Control-Tower contact structure.
Origin logistics facilities located in all key-sourcing regions provide specialized services ranging from purchase order management and consolidation, to sourcing support and assembly.
Our supply chain experts design, implement, and manage services in partnership with our customers. This model, and comprehensive approach, creates real value throughout the supply chain by reducing costs and improving efficiencies.
---
EVENTS AND UPDATES
Breakbulk Americas 2014: 9/29-10/02/14, Houston, TX, Booth 1772


Retail Supply Chain Conference 2015 (RILA): 2/22 – 2/25/15, Orlando, FL, Booth 233